Homemade croutons taste way better than store bought. Once you make your own, it's hard going back.
They make for an amazing salad topper and are also great on soups and as snacks.

The Best Bread
Experiment with your favorite gluten-free bread. There are several sliced breads that work great. Be sure to check labels as some breads are made with egg and other top allergens.
While living in Portland, Oregon we made croutons using baguettes from New Cascadia Traditional, a.k.a. the Gluten Free Artisans. If you ever get a chance to visit New Cascadia, don't miss the opportunity.
We were fortunate to find Rising Hearts Bakery in Culver City, outside of Los Angeles. We make a monthly trip for their awesome allergen free bagels. Moreover, perfect for our croutons are their Crusty Rolls, which conveniently come in 1-pound bags.
Some allergy friendly breads are fragile and crumbly. Therefore, be sure to toss gently with the oil and spices before baking.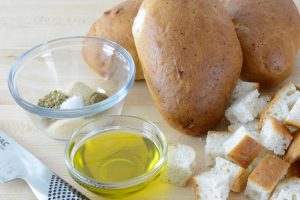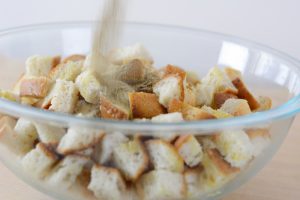 Should I Trim the Crust?
It's totally up to you. We usually leave the crusts on and enjoy the extra flavor. Some gluten-free breads that crumble easily benefit from having the crust give them more strength.
Moisture is the Enemy
The main issue with croutons is moisture which shortens their shelf life. For this reason, we bake them long and at a lower temperature than many recipes call for. Therefore, moisture is baked out and if stored properly, the croutons will have a long shelf life.
Storage: Refrigerator, Freezer or Room Temperature
You will find recipes that are divided on the shelf life and storage of croutons. At room temperature some say they get a 3 day shelf life, some say 2 weeks and we've even seen 8-10 months.
The refrigerator is too moist and not a good choice for storing croutons. Loss of crispness and mold growth can be caused by the absorption of moisture.
The freezer is okay for storage, in a covered airtight container or in a heavy duty freezer bag with as much air removed as possible. If kept constantly frozen and properly stored, croutons can last many months in the freezer. Keep in mind that for best quality, the temperature for freezing must be maintained at 0 degrees F or colder.
We store our croutons at room temperature in an airtight container, in a cool, dry place. They don't last more than a week and are yummy in our daily salads, in soups and as snacks.
1,000 Pounds
8-10 months sure sound like a long time for storing croutons. However, I worked in a bakery where we made in-house croutons for the holidays. We had to start production in July to have enough by the time Thanksgiving rolled around. Everyday we would make a big batch using the previous day's leftover bread. It was a great way to utilize day old bread and the only way we were sure to have 1,000 pounds of croutons, enough for the Thanksgiving demand.
We're always in search of a great gluten free bread and would love to hear what your favorite is.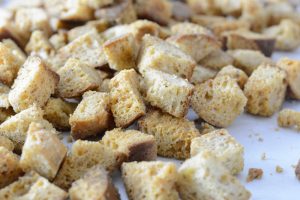 Print
Bistro Croutons
Yield 2 quarts
Free of: gluten and top 8 allergens.
Homemade croutons are so easy to make and taste way better than store bought. Transform your salads and soups into something splendid. Serving size 1/4 cup.
Ingredients
1 pound gluten-free, allergy friendly bread (See Recipe Notes)
3 tbsp olive oil
1/4 tsp kosher salt
1/4 tsp white pepper
1/4 tsp granulated onion
1/2 tsp granulated garlic
1/2 tsp dried thyme
1 tsp dried oregano
Instructions
Preheat oven to 300 degrees F. Line 2 baking sheets with parchment paper. Set aside.
Cut bread into 1/2 to 3/4-inch cubes. Place in a large mixing bowl.
In a small bowl, combine salt, pepper, granulated onion, granulated garlic, thyme and oregano. Set aside.
Drizzle bread cubes with oil and gently toss to coat. This moistens bread so seasoning will adhere.
Sprinkle seasoning mix over bread cubes. Toss gently to evenly coat.
Divide bread cubes between 2 prepared baking pans. Spread out, giving croutons lots of room so they are not touching and can evenly toast.
Place baking pans in oven and bake approximately 60 minutes, rotating pans and gently tossing croutons half way through. Bake until golden brown, dry and crisp.
Cool completely. Store, covered at room temperature.
Notes
Use your favorite baguette, artisan rolls or sliced bread.
Serving size: 1/4 cup
Courses Soups & Salads
Nutrition Facts
Serving Size 1/2 cup
Amount Per Serving

Calories 83

% Daily Value

Total Fat 3.1 g

5%

Saturated Fat 0.4 g

2%

Unsaturated Fat 2.2 g

Sodium 192 mg

8%

Total Carbohydrates 10.7 g

4%

Dietary Fiber 2.6 g

10%

Sugars 0.5 g

Protein 2.5 g

5%
* Percent Daily Values are based on a 2,000 calorie diet. Your daily values may be higher or lower depending on your calorie needs.