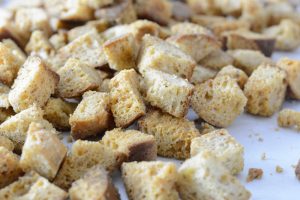 Bistro Croutons
Yield 2 quarts
Free of: gluten and top 8 allergens.
Homemade croutons are so easy to make and taste way better than store bought. Transform your salads and soups into something splendid. Serving size 1/4 cup.
Ingredients
1 pound gluten-free, allergy friendly bread (See Recipe Notes)
3 tbsp olive oil
1/4 tsp kosher salt
1/4 tsp white pepper
1/4 tsp granulated onion
1/2 tsp granulated garlic
1/2 tsp dried thyme
1 tsp dried oregano
Instructions
Preheat oven to 300 degrees F. Line 2 baking sheets with parchment paper. Set aside.
Cut bread into 1/2 to 3/4-inch cubes. Place in a large mixing bowl.
In a small bowl, combine salt, pepper, granulated onion, granulated garlic, thyme and oregano. Set aside.
Drizzle bread cubes with oil and gently toss to coat. This moistens bread so seasoning will adhere.
Sprinkle seasoning mix over bread cubes. Toss gently to evenly coat.
Divide bread cubes between 2 prepared baking pans. Spread out, giving croutons lots of room so they are not touching and can evenly toast.
Place baking pans in oven and bake approximately 60 minutes, rotating pans and gently tossing croutons half way through. Bake until golden brown, dry and crisp.
Cool completely. Store, covered at room temperature.
Notes
Use your favorite baguette, artisan rolls or sliced bread.
Serving size: 1/4 cup
Courses Soups & Salads
Amount Per Serving

Calories 83

% Daily Value

Total Fat 3.1 g

5%

Saturated Fat 0.4 g

2%

Unsaturated Fat 2.2 g

Sodium 192 mg

8%

Total Carbohydrates 10.7 g

4%

Dietary Fiber 2.6 g

10%

Sugars 0.5 g

Protein 2.5 g

5%
Recipe by Allergy Chefs at https://www.yourallergychefs.com/bistro-croutons/