Let's see what's popular on the holiday table.
We found that December favorites varied from state to state. Based on a post from Organics.org, the most "google" searched term for food and recipes here in California was "stuffing". This favorite was also shared by Louisiana.
Stuffing goes great with so many main dishes, from cauliflower steaks to beef Wellington and from turkey to ham.
Free of gluten and the top 8 allergens, these delicious muffins come with a surprise stuffed in the center, a tradition with a twist.
Get the low-down on taking stuffing up a notch…
Our stuffin' muffins are easy and can be made ahead, which we appreciate during the busy season.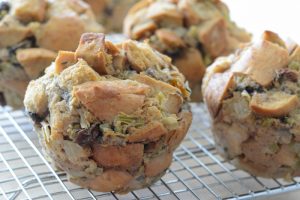 Standard muffin tins are lightly greased and filled half way with stuffing mixture which is then pressed down gently. The center of each cavity is then filled with one tablespoon of the special ingredient, apple butter! A mound of stuffing mixture is placed over each cavity, shaped and pressed down to ensure the muffins will not fall apart.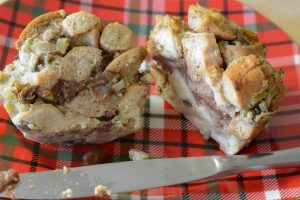 Check out the apple butter! It's the perfect match for stuffing. We'll have one with gravy and how about one for dessert, please?
Stuffing Pointers
It's all About the Bread Cubes
It's easy to make your own bread cubes, instead of buying them already prepared. Simply cut bread into 1/2 by 1/2-inch cubes, toss with a little olive oil and a few spices and herbs, and bake to dry them out.
We made a batch of these muffins with store bought bread cubes and also a batch from scratch using our recipe for Bistro Croutons. Hands down, the homemade cubes made the best stuffing. The pictures are the muffins made with scratch bread cubes.
Adding the liquid to bread cubes that are too small will make a soggy mess.
In any case, the bread is the binder that holds the stuffing together. If the other ingredients, like vegetables, dried fruit, grains, nuts or  meat outnumber the bread, it's tough for the stuffing to stay together.
Therefore, the ratio of bread to other ingredients should be at least two to one.
Too Much or not Enough Liquid
The key to a good stuffing is adding just the right amount of liquid so you have a contrast of soft and firm pieces. Adding too much broth or stock makes for a soggy stuffing.
On the other hand, not enough broth and you have dry stuffing on your plate.
Therefore, stuffing should be moist, without being soggy or dry. The amount of broth needed can vary depending on the bread being used. Adding the broth gradually is the key. You can always add more, but it's hard to take away.
If you are celebrating with a turkey, did you know that stuffing the bird is not as popular as it once was? Plenty of cooks today don't stuff their turkeys.
In fact, food safety guidelines recommend cooking the stuffing inside the turkey to at least 165 degrees F, which would result in an overcooked bird.
Therefore, for best results, make these stuffin' muffins in advance or assemble and bake while the turkey rests.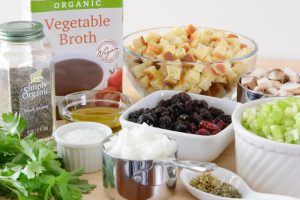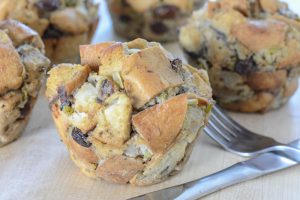 Moist in the center with crisp edges all around…now that's what we call stuffing!
Holiday means tradition. We love holidays and we love traditions. Doing things our parents and grandparents did make us feel connected to them.
We wish you the warmth of family, friends and faith this holiday season.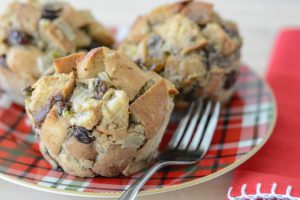 Print
Stuffin' Muffins
Yield 12 Standard Muffins
Free of: gluten and top 8 allergens.
Stuffing goes great with so many main dishes. These muffins come with a surprise in the center, a tradition with a twist.
Ingredients
1 tbsp flaxseed meal
3 tbsp lukewarm water
1 tbsp grapeseed oil
1-1/4 cups diced yellow onions
1-1/4 cups diced celery
1-1/4 cups diced mushrooms, buttons or cremini
1/2 tsp dried oregano
1/2 tsp dried thyme
2/3 cup dried fruit (golden raisins, dark raisins, cranberries, cherries, or combination)
3 cups low-sodium vegetable broth, or more as needed
10 ounces allergy-friendly bread cubes (see recipe notes)
1/3 cup fresh Italian parsley, chopped
3/4 cup apple butter
Salt and pepper to taste
Instructions
Preheat oven to 350 degrees F. 
Lightly grease a standard 12-muffin tin; set aside.
In a small bowl, whisk together flaxseed meal and water. Set aside.
Heat oil in a large saucepan over medium heat.
Add onions and celery; sweat for 5 minutes, stirring occasionally.
Add mushrooms, oregano and thyme. Cook for 3-5 minutes or until mushrooms are soft.
Add dried fruit and broth. Increase heat to high and bring to a boil. Reduce heat and simmer for 2 minutes. Remove pan from heat.
Add bread cubes and parsley to the pan. Using a rubber spatula, gently stir to incorporate flavors and coat bread cubes with liquid. Add more broth, if needed.
Taste to see if additional salt and pepper are needed. This will depend on the seasoning of the broth and bread cubes. If they are well seasoned, you should not need to adjust seasoning.
Return to flaxseed mixture and vigorously whisk; it will be gelatinous. Pour mixture over bread cubes and toss gently to combine.
Fill each muffin cavity halfway with stuffing mixture, pressing mixture gently. Fill the center of each cavity with 1 tbsp apple butter.
Spoon a mound of stuffing mixture over the apple butter, shape and press gently into the muffin cavity. This will ensure the muffins will not fall apart.
Bake until set and crisp on top, about 20 minutes. Remove from oven and allow to cool before removing from tin.
Stuffin' muffins can be served fresh or can be easily reheated later.
Notes
For homemade bread cubes, follow the recipe for Bistro Croutons. The recipe yields 2 quarts. You will need approximately 5 cups for the stuffin' muffins and you'll have leftovers for salads.
Courses Veggies & Sides
Nutrition Facts
Serving Size 1 muffin
Amount Per Serving

Calories 140

% Daily Value

Total Fat 4.1 g

6%

Saturated Fat 0.5 g

3%

Unsaturated Fat 3 g

Sodium 201.6 mg

8%

Total Carbohydrates 22.2 g

7%

Dietary Fiber 3.2 g

13%

Sugars 10.1 g

Protein 2.9 g

6%
* Percent Daily Values are based on a 2,000 calorie diet. Your daily values may be higher or lower depending on your calorie needs.