This homemade strawberry milk is full of fresh fruit and velvety smoothness. What a fun addition to any breakfast, brunch or afternoon treat, and a hit for kids of all ages.
It's simple to make with only 4 ingredients, and no artificial colors, flavors, dyes…or dairy. Read more to see what's in the top brands of strawberry milk on our grocery shelves. One thing's for sure…zero strawberries.
We suggest buying organic when it comes to strawberries, since this red, juicy fruit has a soft, seedy skin, which allows for easier absorption of pesticides. Many of these pesticides penetrate the skin and cannot be rinsed off.
By the way, for the third year running, strawberries top the Environmental Working Group's (EWG) Dirty Dozen™ list for produce containing the most pesticide residues. How much is that? Check it out, cause you won't believe it!
According to the EWG, one strawberry sample contained an astounding 22 pesticide residues. Not only that, one-third of all conventional strawberry samples contained 10 or more pesticides.
If you haven't already, check out our past post titled, Pesticides and the Dirty Dozen Uncovered. There's some great insight on pesticides in relation to cancer, food allergies, and so much more.
Don't miss the 2018 EWG's Dirty Dozen™ list for this year's produce containing the most pesticide residues. The EWG also publishes the Clean Fifteen™, a list of the 15 cleanest fruits and veggies.
When it comes to produce, we're okay with buying conventional, the fruits and vegetables that are on the Clean Fifteen™.
You may be wondering why strawberry milk? With strawberries in season, I thought strawberry milk would be a great companion for peanut butter cookies. We'll get an allergy-friendly and vegan recipe for cookies out soon!
Brainwashed Into Buying Junk Food
I knew I had to make a wholesome drink, when I saw the ingredients listed online for Borden's Strawberry Milk, which contains ZERO strawberries.
Milk is the first ingredient, followed by High Fructose Corn Syrup, Sugar, Corn Starch, Carrageenan, Artificial Flavor, Salt, Red #40, Vitamin A Palmitate, and Vitamin D3.
Marketing sure does a great job at convincing the public that a product with so many crappy ingredients, can be good for you.
And don't worry Borden, we're not picking on you. It's the same story with Nestlē. So, let's make our strawberry milk from scratch.
Here we have the 4 simple ingredients in our strawberry milk. There are other options for sweeteners other than sugar, including pure maple syrup, stevia or dates. The amount of sweetening you add will depend on the sweetness of the strawberries and your own taste.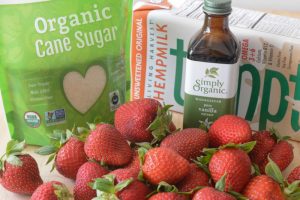 We made several batches of syrup. In the first batch, we cooked the strawberries. Then we macerated the strawberries, by sprinkling sugar on them, which draws out their juices so they become soft and sweet. We found that macerating and then pureeing the strawberries gave us the best results.
Alternative Milks
Hemp milk makes a great allergy-friendly strawberry milk. If almonds are not an issue, almond milk is also a great choice. The alternative milk is up to you.
Enjoy!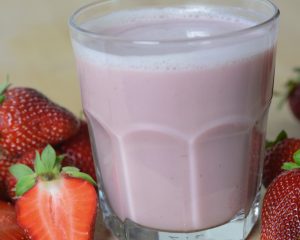 Tidbits
Arguably, there are many natural-based pesticides that are allowed in organic farming. Most come from plants or bacteria and are processed minimally, if at all. Many organic farmers do not use pesticides, but some do.
In conclusion, to really know what you're getting, it's best to know your source. Buy locally and visit the farmer's market. Talk to the farmers and ask what their methods are.
Use EWG's Dirty Dozen™ to reduce your exposures as much as possible, but eating conventionally-grown produce is better than not eating fruits and vegetables at all.
Print
Strawberry Milk
Yield 4 Servings
Free of: gluten and top 8 allergens.
This delicious homemade strawberry milk is full of fresh fruit and has only 4 ingredients, with no artificial colors, flavors, dyes...or dairy.
Ingredients
1 pound fresh strawberries, rinsed, trimmed and sliced
1/2 cup organic cane sugar (see recipe notes)
1/2 tsp vanilla extract
4 cups alternative milk, cold
Instructions
Place strawberries in a medium bowl. Toss with sugar and let macerate at room temperature for at least one hour. Strawberries will release their juices. Add vanilla.
Transfer strawberries and their juices to a blender. Blend until smooth, about 30 seconds. Using a fine sieve or mesh strainer, strain into a small bowl. You will have about 1-3/4 cups of syrup. Chill until ready to use. 
Vigorously stir or whisk 1/4 cup of puree, or more or less as desired, into 1 cup of cold milk.
Strawberry syrup can be made 5 days ahead, stored in an airtight container in the fridge.
Notes
To replace cane sugar with pure maple syrup, omit the step for macerating the strawberries. Place sliced strawberries in a blender with 1/3 cup of maple syrup and vanilla. Blend until smooth; strain puree into a small bowl. Taste for sweetness and add additional maple syrup, if desired.
Courses Beverages