This restaurant-quality Pad Thai starts with fresh ingredients including rice noodles, broccoli, cabbage, and carrots that are tossed in a delicious homemade sauce.
Enjoy the most popular Thai dish in America…and skip the delivery!
Check out our video…
Pad Thai is one of our favorite things to eat. This is the dish by which we used to measure every Thai restaurant.
Traditional pad Thai recipes call for tamarind paste. Since it's not always easy to find, we went with ingredients that most people have or can easily purchase.
Once you have your mise en place, it only takes 10 minutes to cook up. So let's talk a little about the prep.
Prepping the Cabbage
Peel away and discard any tough outer layers or leaves. Rinse and dry the cabbage. Cut the head of cabbage in half lengthwise, all the way through the core. Cut into the core at an angle and remove it from each half.
Place each cabbage half on a cutting board, flat side down. Cut about 3 slices horizontally, and 3 slices crosswise, as shown below. If the head of cabbage is large, make 4 cuts in both directions.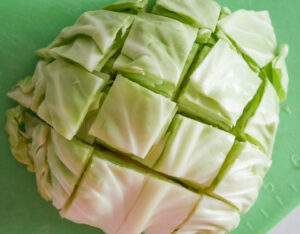 Noodles
Our favorite pad Thai noodles are Annie Chun's Pad Thai Brown Rice Noodles. There are instructions for both boiling or soaking the noodles. We cooked the noodles in boiling water for about 5 minutes, then drained and rinsed under cold water.
However, follow the cooking instructions on the package of noodles of your choice.
The best thing about making your own pad Thai is that you know exactly what's in it!
We ordered takeout this week from one of the most popular Thai restaurants, allergy-friendly and known for their vegan and gluten-free options. The manager even has life threatening allergies. I was assured several times that my pad Thai was gluten-free, vegan, and soy-free. Shortly after eating, I had trouble breathing, my stomach swelled and I felt odd. I'm thankful it was a mild reaction, but it still took several days to completely get back to normal.
We just made the easy decision to avoid Thai restaurants. We'll enjoy our Thai food, homemade and safely at home.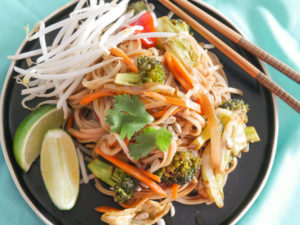 Print
Pad Thai Delicious
Yield 6 Servings
Free of: gluten and top 9 allergens.
Homemade Pad Thai that is restaurant-worthy!
Ingredients
Sauce
4.5 tbsp fresh lime juice
4.5 tbsp light brown sugar, packed
1/3 cup vegetable broth
3 tbsp rice vinegar (aka rice wine vinegar)
3 tbsp coconut aminos
3 tbsp sunflower seed butter
1-1/2 tsp sriracha
2 tbsp cornstarch
Pad Thai
8 ounces dry pad Thai noodles (we like Annie Chun's Pad Thai Brown Noodles)
2 cups of bite-sized broccoli florets
2 tbsp vegetable oil
1 thinly sliced or diced yellow onion (about 1-1/2 cups)
1 cup julienne cut carrots
1 tbsp minced garlic
1 cup julienne cut red bell pepper, about 1 medium pepper (see recipe notes)
4 cups roughly chopped green cabbage
Water or veggie broth, as needed
Garnishes, optional
2 cups bean sprouts
1/2 cup chopped fresh cilantro or basil
1/2 cup toasted sunflower seeds
Lime wedges
Instructions
For the sauce, in a small bowl whisk together lime juice, brown sugar, veggie broth, rice vinegar, coconut aminos, sunbutter, and sriracha. Set aside in fridge until ready to use. The cornstarch will be added later.
For the Pad Thai, prepare the rice noodles according to the package directions. Drain and rinse under cold water to cool completely. Toss with a little vegetable oil to prevent sticking. Set the pasta aside, in the strainer.
Steam the broccoli just until tender, about 4 minutes, being careful not to overcook. Transfer the broccoli to an ice bath (bowl with water and ice). Once cool, drain well.
Heat a large, nonstick skillet or wok over medium-high heat. Pour oil into the pan and heat until oil is shimmering. Add the onions and carrots. Stir-fry for about 2 minutes. Add garlic, cabbage, and bell pepper. Stir-fry for about 3 minutes. Add broccoli and ¼ cup of water or veggie broth. Cover and let broccoli heat through for 1-2 minutes.
While broccoli is heating up, whisk cornstarch into the reserved sauce. Remove lid and pour the sauce over the vegetables. When sauce comes to a boil, stir to coat vegetables and cook for 2 minutes, stirring occasionally.
With the noodles in the pasta strainer, rinse under hot water to warm the noodles. Drain well and add noodles to the vegetables, tossing gently to combine.
Garnish with toasted sunflower seeds, cilantro, lime wedges, and bean sprouts, if desired.
Notes
There are several ways to julienne bell peppers. One way is to cut the top and bottom off the pepper, reserving for another use. Hold the pepper upright and cut off each side, so you end up with four or five pieces, discarding the remaining core. Turn the large pepper pieces skin side down on the cutting board. Flatten them with your fingers and use the tip of the knife to remove rib from inside. Cut the pepper into thin strips. If it is a long pepper, cut each section into half to shorten the strips.
Courses Mains