These Molé Nachos Especiales are classic fiesta food, and a delicious game day, or any day, appetizer!
Oftentimes, people's experience with molé comes from a commercially prepared product loaded with oil and overly sweet. Even if you find one you like, it isn't in the same league as the real thing done from scratch.
When molé is made from scratch, no matter what regional version you're tasting, the sauce will offer a complexity that is spun into harmony with rehydrated chiles, nuts and seeds, corn and sometimes chocolate.
Seriously, these Molé Nachos Especiales are not only allergy-friendly, but love at first bite!
I Love the Name
Did you know that nachos originated in Piedras Negras, Mexico? I spent many a great time there. Maybe that's why I love nachos so much.
Well in the early 1940s, the maitre d' Ignacio "Nacho" Anaya, whipped up a batch for a group of U.S. military wives at a restaurant called the Victory Club after the restaurant was closed.
Ignacio made a new snack for them with tortillas and cheese. He cut the tortillas into triangles, added cheddar cheese and sliced jalapeño peppers. He then served the dish calling it Nachos Especiales.
We found it only fitting to call these nachos, Molé Nachos Especiales.
We Take the Complicated Out of Molé
This traditional Mexican sauce is known for being complicated and taking a long time to make. We think our version is fairly easy compared to some. Keep in mind, this is the kind of dish that is worth every effort.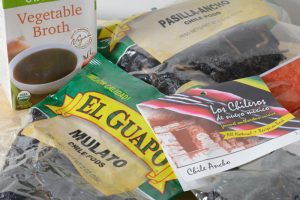 The Key Ingredient
We start by making the pepper paste. The dried peppers are heated briefly in the oven just until soft and pliable. Wearing disposable gloves, once the chilies are cool enough to handle, pull off the stems and gently rip the peppers open to pour out the seeds. The seeds and stems are discarded.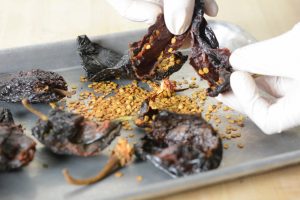 Next, the peppers are simmered with vegetable broth for about 10 minutes, then blended until smooth and strained through a fine sieve, by moving a ladle up and down, forcing the paste through the sieve. This yields 2-3/4 cups of paste, and more than you'll need for the recipe.
Certainly, that's a good thing. After you finish the molé sauce, you can portion the remaining paste into containers and freeze. Once you make this, you'll be wanting to make it again and again. You'll be glad you have the paste handy.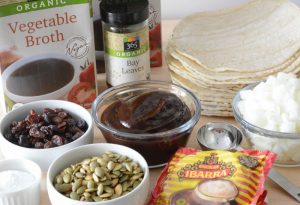 La Salsa es la Mejor
Next, the vegetable broth, onions, corn tortillas, raisins, pumpkin seeds and bay leaf are simmered together for 10 minutes.
Remove the bay leaf and transfer the mixture in batches to a high speed blender and puree until smooth. Back in the saucepan the mixture goes.
Add the pepper paste (pictured above in the center) and chocolate to the mixture, and simmer for 5 minutes.
Lastly, taste the sauce for spiciness and add additional pepper paste if needed, a teaspoon at a time.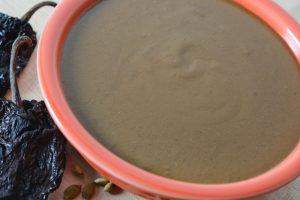 Here is the delicious molé sauce, and it really was easy to make.
Ahh, the Assembly
Finally, the assembly of our rockin' molé nachos. Take a small baking pan and drizzle molé sauce on the bottom of the pan. Follow with corn tortilla chips, beans, a mixture of shredded cheddar and mozzarella style shreds, more chips, more cheeze and more chips.
Pop them in the oven at 375-degress F for about 10 minutes, until the cheeze is melted. Out of the oven, top with lots of molé sauce, olives, diced avocados, more beans, corn, pickled jalapeño slices, purple cabbage slaw, cilantro and lime wedges. Serve these sensational nachos with salsa on the side.
What's fun is that you can make them your own by topping with your favorite nacho ingredients! If you like, top with shredded chicken or pork. To make it easy, you can pick up a rotisserie chicken from the market. But whatever you do, don't mess with the molé! 🙂
Corn is More Than Just an Allergen
Corn can be a major trigger for those of us with Hashimoto's Thyroiditis, an autoimmune disease. Corn tacos and tamales are my favorite foods. And, I can't leave out homemade pupusas! Okay, I'll stop there. Needless to say, I really over did it in during the holidays.
Gluten, dairy, soy and peanuts are foods I cannot have. Now corn? I knew I had to go on an elimination diet and find out. Going 3 weeks without it, issues of joint pain and swelling vanished. Until…
Joel and I ate the entire tray of nachos on game day, last Sunday. We sure did and they were the best nachos ever!
You can be sure, this will not stop me from enjoying Molé Nachos Especiales on Super Bowl Sunday. I'm going to dehydrate sweet potato chips in place of corn chips, and replacing the tortillas in the sauce should be easy. I can't wait, cause they'll be just as good, and who know's, maybe even better!
Are You Having a Similar Issue?
Do you have bloating, fatigue, joint pain, anxiety or other issues?
You may not realize it, but the foods you're eating every day could be slowly harming your health. Believe me, it's frustrating when you're already eating healthy.
As a result, cutting out the foods you suspect may be the culprit for health issues could change your life forever. Start by eliminating certain food or foods for a month. Then, reintroduce the food and see how you feel.
It's important to remember, there's not one solution or diet that fits all. As always, be sure to seek medical advice, if needed.
Of course, elimination diets for food allergies are non-negotiable!!!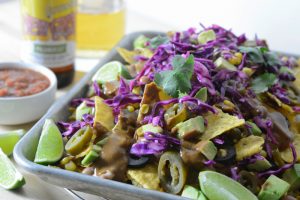 Tidbits
This molé sauce is incredible in so many dishes, from enchiladas, tacos, chili, and tamales to tostadas, casseroles, burgers, bowls and more.
Don't forget the disposable gloves! A compound in chile peppers called capsaicin can cause a burning sensation on any part of the skin it touches. The tingly burning can last for hours. And can you imagine if you should rub your eyes? No thanks!
Print
Mole Nachos Especiales
Yield 6 Servings
Free of: gluten and top 8 allergens.
You won't want to eat restaurant nachos again. The addition of warm, velvety mole sauce upgrades this favorite snack which is perfect for game day or any day.
Ingredients
Pepper Paste
2 ounces dried ancho chiles (approximately 5)
2 ounces dried mulatto chiles (approximately 4)
2 ounces dried pasilla chiles (approximately 3)
1 quart vegetable broth
Mole Sauce 
2 cups vegetable broth
1/2 cup yellow or white onions, diced
2 (6-inch) corn tortillas, roughly chopped
1/4 cup dark raisins
1/4 cup pumpkin seeds, toasted
1 small bay leaf
3 tbsp pepper paste, plus more as needed
1 ounce finely chopped or grated Mexican chocolate, such as Ibarra (approximately 3 tbsp)
Nacho Toppings
10 ounces corn tortilla chips
1 (15-ounce) can pinto or black beans, drained and rinsed
1 cup cheddar style shreds
1 cup mozzarella style shreds
1/2 cup sliced black olives
1 avocado, diced
1 cup frozen corn, thawed
1/2 cup nacho sliced jalapeños
1 cup shredded purple cabbage
1/4 cup cilantro sprigs
1 lime, cut into wedges
1 cup prepared salsa
Instructions
For the pepper paste, preheat oven to 350-degrees F. Place dried peppers on a sheet pan. Heat in oven for 5-7 minutes, until peppers are soft and pliable.
Remove peppers from oven and allow to cool slightly. Wearing disposable gloves, clean the peppers by pulling out the stems, tearing them open and shaking out the seeds. Be sure to work fast, before the chiles cool and become brittle, making them difficult to work with. Discard stems and seeds.
Place the peppers and quart of broth in a medium saucepan and bring to a boil.
Reduce heat and gently simmer for 10-12 minutes.
Transfer ingredients to a high speed blender or food processor and blend until smooth. Strain through a fine sieve by moving a ladle up and down, forcing the paste through the sieve to remove any seeds or skin. Set aside while making the mole sauce. You can make the paste ahead of time and refrigerate until needed. You will have 2-3/4 cups.
After using 3 tbsp and more if needed, freeze the remaining paste in increments of a heaping 1/3 cup to have onhand the next time you make mole.
For the mole sauce, in a medium saucepan, place 2 cups broth, onions, tortillas, raisins, pumpkin seeds and bay leaf. Bring to a boil. Reduce heat and simmer for 10 minutes, stirring occasionally.
Remove bay leaf and transfer mixture to a high speed blender. Start on low and increase to high speed and blend for 40-50 seconds, until smooth. Return mixture to saucepan.
Place saucepan on stove and turn on heat to medium. Add pepper paste and chocolate to pureed mixture. Bring to a gentle simmer and cook for 5 minutes.
Taste mole sauce for spiciness and add additional pepper paste if desired, a teaspoon at a time. Season with salt, if needed. This makes 2 cups.
To assemble nachos, preheat oven to 375-degrees F.
On a small baking pan, drizzle about 1/2 cup mole sauce on bottom of pan. Top with corn tortilla chips, half of the beans, half of the cheddar and mozzarella style shreds, more chips, the remaining cheddar and mozzarella shreds and more chips.
Pop in the oven for about 10 minutes, until cheeze melts. Remove from oven and top with 3/4 to 1 cup mole sauce. Sprinkle with olives, avocados, remaining beans, corn, jalapeños, cabbage, cilantro and lime wedges. 
Feel free to substitute your favorite toppings or shredded chicken or pork for any toppings we've listed.
You'll have some extra sauce for extra dipping.
Serve with your favorite salsa on the side.
Courses Starters