This lime tart with roasted pineapple is pure bliss, with a perfect blend of tart and sweet.
We had lots of fun this past week volunteering at Henry Mayo Newhall Hospital here in Santa Clarita, CA. Celebrating Women's Health was a week full of classes open to the community.
Our class was on healthy cooking with two food demos. This week we're posting the dessert, which was a hit!
A major ingredient in this lime tart is avocado, a nutrient-dense superfood. Avocados contain:
Important trace vitamins
Phytonutrients
Fat-soluble vitamins A, E, & K
Monounsaturated fats
Water-soluble vitamins B & C
Protein
Folate
Lots of fiber
Antioxidant phytochemicals
Carotenoids
The Crust
For the crust, you can use your favorite graham crackers or your favorite chocolate wafers. We found Nairn's Gluten Free Oat Grahams at Sprout's, which are low in fat and sugar. They do not contain, but are manufactured in a facility that handles milk, tree nuts and peanuts. However, if that's an issue, Enjoy Life has several cookie options baked in a dedicated facility free from the top 8.
The Filling
The filling is super easy. Avocado, lime juice, lime zest, agave nectar, date paste, coconut oil, vanilla extract and a dash of salt are blended until smooth.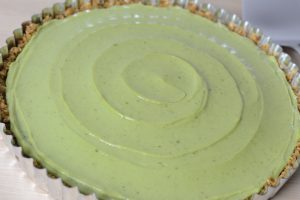 The Pineapple
While the tart sets in the refrigerator, the pineapple is roasted, which softens the acidic edge and gives it a sweet and caramelly flavor. This takes about 20 minutes. When the roasted pineapple is out of the oven and cooled, it's transferred to a container and stored in the refrigerator until the tart is served.
We chose to top the tart with diced pineapple, not only because it's a great compliment to the filling and brings texture, but because of its following health benefits:
Rich source of vitamin C
High in fiber
Improves fertility
Protects against heart disease
Prevents asthma
Helps mental health
Helps fight cancer
Reduces inflammation
We would like to thank Henry Mayo Newhall Hospital and the wonderful women of Santa Clarita who attended and made our class so much fun!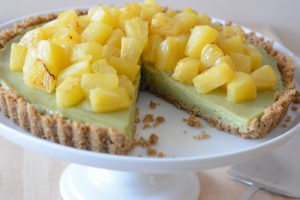 Print
Lime Tart with Roasted Pineapple
Yield One (9-inch) Tart
Free of: gluten and top 8 allergens.
The contrast between the lime filling and roasted pineapple is pure bliss, with a perfect blend of tart and sweet.
Ingredients
Crust
1-1/2 cups graham cracker or cookie crumbs (see recipe notes)
3 ounces dairy-free, soy-free margarine, such as Earth Balance, melted (approximately 1/3 cup)
Filling
1-1/4 cups mashed avocado, room temperature (approximately 2 medium avocados)
2 tbsp lime zest
1/3 cup fresh lime juice, room temperature (approximately 3 medium limes)
1/3 cup agave nectar or honey
1/3 cup date paste (see recipe notes)
4 tsp coconut oil, melted and cooled to room temperature
1 tsp vanilla extract
1/8 tsp salt
Topping
1 large pineapple
Instructions
For the crust, preheat oven to 350-degrees F. Place the cookie crumbs in a medium bowl. Gradually add the margarine just until crumbs start holding together when pressed. Depending on the type of cookie crumbs, the amount of margarine needed may vary.
Press the crumbs into a (9-inch) tart pan with removable bottom. Place on a baking sheet and bake for 10 minutes, until lightly browned. Remove from oven and let cool completely.
For the filling, place the avocado, lime zest, lime juice, agave nectar, date paste, coconut oil, vanilla extract and salt in a small blender. Ingredients should be at room temperature so the coconut oil doesn't solidify by coming in contact with cold ingredients. Puree until smooth.
Pour into baked tart shell and spread evenly. Place in refrigerator to set up for 8 hours.
For the pineapple, preheat oven to 400-degrees F. Cut off and discard the crown, or top. Cut off exterior and core, discarding trimmings. Cut pineapple into 1/2 to 3/4-inch cubes.
Arrange pineapple on a large baking sheet lined with foil or a silicone baking mat. Roast in oven for approximately 20 minutes, tossing halfway through.
Let the pineapple cool and transfer to a container and store in the refrigerator.
To serve, cut and plate the lime tart, topping each slice with roasted pineapple.
Notes
Any crunchy cookie can be turned into a tart crust. Popular choices are graham crackers, vanilla wafers and chocolate wafers. We used Nairn's Gluten Free Oat Grahams, which we found at Sprout's. One (5.64 ounce) box yields 1-1/2 cups crumbs. To make crumbs, process cookies in a food processor until crumbed or place in a heavy duty Ziploc bag and crush with a rolling pin.
For the Date Paste, place 5 pitted Medjool dates (approximately 4 ounces) in a medium bowl and cover with water. Let the dates soak for 1-2 hours at room temperature. Drain the dates. Combine dates and 2 tablespoons of water in a small blender or small food processor. Blend until a smooth paste forms. If needed, add an additional tablespoon of water incrementally until the date paste is creamy and smooth, with a thick consistency. This will yield approximately 1/2 cup paste. Depending on the size of your blender or food processor, you may need to increase the batch size of this recipe in order for the paste to properly blend.
Courses Sweets