In Vietnam they have pho and then more pho. Considered the Vietnamese national soup, pho is enjoyed at breakfast, lunch and dinner.
There are many pho variations. Common are Pho Bo (beef noodle soup), Pho Ga (chicken noodle soup) and Pho Chay (vegetable noodle soup).
This lemongrass pho chay recipe is not only delicious, but good pho you!
Pho consists of broth, rice noodles called banh pho, herbs and meat and/or vegetables. Other additions have come center stage such as shrimp and pork filled wontons, seafood, brisket, tofu and so much more.
Broth Rules!
Although the word "pho" actually refers to the rice noodles, the soup is really about the broth. The way all the spices and their flavors come together is incredible. But the best part is that you can customize, adding any and all the condiments and proteins you desire to make this your soup.
Once you've got the broth and the noodles, everything else is totally customizable. We'll show you how we like our pho, but it's your pho. Add to the broth what you want.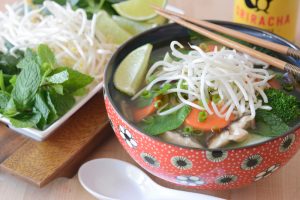 We make it once a month, always making sure there is leftover broth to freeze for another day.
Making pho is easy, yet it can be time consuming. If you start your prep a day in advance and you have stock in the freezer, a bowl of soup will never be out of reach.
The Stockpot
You'll need a stockpot, which is a large, deep, straight-sided pot for preparing stocks and simmering large quantities of liquids where rapid evaporation is not desired. Stockpots are similar to saucepans, but saucepans are much shallower to allow for ease of stirring and mixing.
If you don't have a stockpot, don't worry. Use a large narrow saucepan. For this, we used a large saucepan with a diameter of 10-inches. We lost a little more evaporation, but the results were still pho-nomenal!
Let's take a look at the steps for making the broth.
Tidbits
Yellow rock sugar is often used in making authentic Vietnamese pho. The flavor is a little different from regular sugar and it isn't a refined white sugar. Regular sugar produces a sweet, flat broth, whereas the rock sugar rounds things out with translucency and brings everything together.
Charring onions over an open flame or under a broiler make for a more complex finished broth. When split, you see the layer of blackened skin on the exterior, which will be removed, followed by layers of sweet semi-cooked onion, with a raw core. Charring ginger also gives nice depth and color.
Toasting star anise, cloves and cinnamon in a dry pan over medium heat for 2-3 minutes adds depth to the broth. Despite the fact that they're dried, spices do lose flavor and aroma over time. The key is to use good, fresh spices.
Gimme some pho!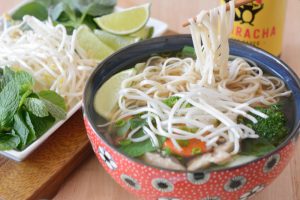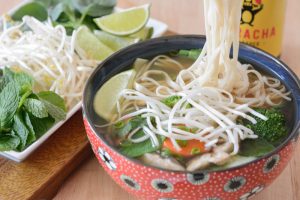 Print
Lemongrass Pho
Yield 4 - 6 Servings
Free of: gluten and top 8 allergens.
This Lemongrass Pho is not only delicious, but good pho you! The best part is that you can customize, adding any and all the condiments or protein you desire to make it your soup.
Ingredients
Broth
2 tbsp grapeseed oil
2 cups chopped onion (8 ounces)
1 cup chopped carrots (4 ounces)
1 cup chopped celery (4 ounces)
1-1/2 cups chopped leeks (4 ounces)
1/2 cup chopped parsnips (2 ounces)
4 cloves garlic
2-1/2 quarts water
1 large chopped Roma tomato (2 ounces)
1 large lemongrass stalk, trimmed and chopped (see recipe notes)
1-1/2 cups dried shiitake mushrooms (1 ounce)
1/2 pound daikon, peeled and cut into 1-inch thick slices
1 by 3/4-inch piece of fresh ginger, cut into slices
3 whole star anise
3 whole cloves
1/2 tsp black peppercorns
1 (3-inch) cinnamon stick
Noodles
1 package Banh Pho flat rice noodles
Vegetables
5 ounces sliced shiitake mushrooms, sautéed; or reserved shiitakes from broth, sliced
4-6 heads baby bok choy, depending on size, blanched and chopped (see recipe notes)
1-1/2 cups broccoli florets, steamed
1 cup sliced carrots, steamed
Garniture
1 cup loosely packed cilantro
1/2 cup loosely packed mint leaves
1/2 cup loosely packed thai basil
1 green onion, thinly sliced
2 cups bean sprouts or mung bean sprouts
1/2 jalapeno pepper, thinly sliced
1 lime, cut into 6 wedges
Sriracha, optional
Instructions
For the broth, heat oil in a stockpot or a large saucepan over medium-low heat. Add onion, carrots, celery, leeks, parsnips and garlic and sweat for 10 minutes. To sweat is to cook over low heat with a small amount of fat. Stir so veggies don't brown.
Add water, tomato, lemongrass, shiitakes, daikon, ginger, star anise, cloves, peppercorns and cinnamon stick.
Cook on high heat until you begin to see bubbles break through the surface of the liquid. Turn down the heat to medium-low so that the broth maintains a low, gentle simmer. Simmer for 45 minutes, skimming any foam or scum that collects on the surface. Turn off heat and allow to cool for 15 minutes. Place a fine mesh strainer over a large pot or bowl. Pour the broth into the strainer, allowing the liquid to pour through. Set broth aside and reserve shiitakes.
For the noodles, cook amount needed according to package directions. Drain and rinse under cold water to stop the cooking process. Then rinse with hot water to prevent sticking. Set aside. Though not all pad thai noodles will work great in this dish, we have used Annie Chun's Pad Thai Brown Rice Noodles from Whole Foods. They work great! Other pad Thai noodles have not worked out so well.
To assemble, bring broth to a full boil right before serving.
Fill large, heated soup bowls with noodles, followed by vegetables. Pour in piping hot broth and serve with garniture on the side.
Notes
Lemongrass: Look for stalks that are fragrant, tightly formed, and of a lemony-green color on the lower stalk. Avoid purchasing stalks that are loose and coming apart as well as stalks that are brown and crusty or crumbling. Lemongrass freezes well and is often sold in frozen packets. Remove about 2-inches from the root end, or lower bulb and discard. Cut off the upper end of the stalk, which is mostly green and woody, and reserve. Remove a few white outer layers from the bottom piece. Chop and make cuts through the bottom piece and reserve for broth. Take the upper stalk end and make several superficial cuts crosswise along the length of the stalk with a serrated knife. Gently bend the stalk several times to "bruise" it. This will release fragrance and flavor. This along with the chopped white portion will be used in the broth. 
Baby Bok Choy: Trim off and discard end of each bulb. Separate the stalks and wash under running water. Place in boiling water to blanch just until tender and bok choy turns bright green, about 1-1/2 to 2 minutes.
Courses Soups & Salads