We are hooked on molé!
Each region in Mexico has it's own slant on specific ingredients and methods. These sauces can be red, black, green or yellow. Molé poblano from the town of Puebla is probably the most famous.
When it's made from scratch, no matter what regional version you're tasting, the sauce offers a complexity that is spun into harmony with rehydrated chiles, nuts and seeds, corn and sometimes chocolate.
We've omitted peanuts, tree nuts and sesame seeds to equal "allergy-friendly" with the same great taste!
This traditional Mexican sauce is known for being complicated and taking a long time to make. We think our version is fairly easy compared to some. Keep in mind, this is a sauce that is worth every effort.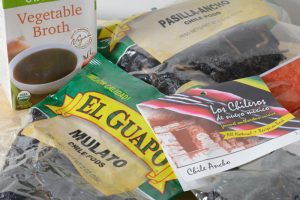 The Key Ingredient
We start by making the pepper paste. The dried peppers are heated briefly in the oven just until soft and pliable. Wearing disposable gloves, once the chilies are cool enough to handle, pull off the stems and gently rip the peppers open to pour out the seeds. The seeds and stems are discarded.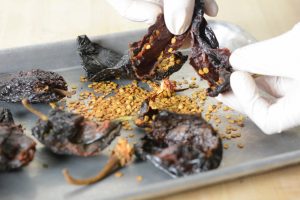 Next, the peppers are simmered with vegetable broth for about 10 minutes. They are then blended until smooth and strained through a fine sieve, by moving a ladle up and down, forcing the paste through the sieve. This yields 2-3/4 cups of paste and more than you'll need for the recipe.
Certainly, that's a good thing. After you finish the molé sauce, you can portion the remaining paste into containers and freeze. Once you make this, you'll be wanting to make it again and again. You'll be glad you have the paste handy.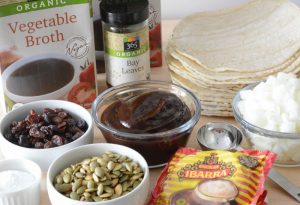 La Salsa
Next, the vegetable broth, onions, corn tortillas, raisins, pumpkin seeds and bay leaf are simmered together for 10 minutes.
Remove the bay leaf and transfer the mixture in batches to a high speed blender and puree until smooth. Back in the saucepan the mixture goes.
Add pepper paste (pictured above in the center) and chocolate to the mixture, and simmer for 5 minutes.
Lastly, taste the sauce for spiciness and add additional pepper paste if needed, a tablespoon at a time.
The delicious molé sauce is ready and was so easy to make.
Don't Forget the Disposable Gloves!
A compound in the chile pepper called capsaicin can cause a burning sensation to any part of the skin it touches. The tingly burning can last for hours and even longer depending on how many chiles you've touched. And can you imagine if you should rub your eyes? No thanks!
I'm sure Joel will not be upset, but I can't help but share this story. Joel did his externship during culinary school at a restaurant famous for Southwestern cuisine. One of his first tasks was to clean case after case of dried chile peppers, an all day task. The simple process was explained, minus the importance of wearing gloves.
It didn't take long before Joel felt burning sensations in his hands and under his nails. He looked around to the chuckling of the other cooks who congratulated him on his initiation as an extern while handing him a pair of gloves. The burning pain lasted for 3 days, with Joel sleeping with a fan blowing on his hands.
Tidbits
This molé sauce is incredible in so many dishes, from enchiladas, tacos, chili, and tamales to tostadas, casseroles, burgers, bowls and more. Check out our post for Molé Nachos Especiales, heaven on a plate!
Molé stems from the Nahuatl word "molli" which means "sauce." Nahuatl is a widely spoken indigenous language predominately spoken in Central Mexico. It was once the most widely spoken language in the Aztec Empire.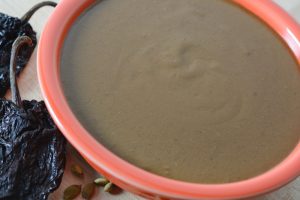 Print
Hooked on Mole
Yield 1 quart
Free of: gluten and top 8 allergens.
The depth of this Mexican chili and chocolate sauce is nothing shy of spectacular. This velvety sauce is ideal for so many dishes, from enchiladas and tamales, to casseroles, chili and so much more!
Ingredients
Pepper Paste
2 ounces dried ancho chiles (approximately 5)
2 ounces dried mulatto chiles (approximately 4)
2 ounces dried pasilla chiles (approximately 3)
1 quart vegetable broth
Mole Sauce
1 quart vegetable broth
1 cup yellow or white onions, diced
4 (6-inch) corn tortillas, roughly chopped
1/2 cup dark raisins
1/2 cup pumpkin seeds, toasted
1 bay leaf
1/3 cup pepper paste, plus more as needed
2 ounces finely chopped or grated Mexican chocolate, such as Ibarra
Instructions
For the pepper paste, preheat oven to 350-degrees F. Place dried peppers on a sheet pan. Heat in oven for 5-7 minutes, until peppers are soft and pliable.
Remove peppers from oven and allow to cool slightly. Wearing disposable gloves, clean the peppers by pulling out the stems, tearing them open and shaking out the seeds. Be sure to work fast, before chiles cool and become brittle, making them difficult to work with. Discard stems and seeds.
Place the peppers and first quart of broth in a medium saucepan and bring to a boil.
Reduce heat and gently simmer for 10-12 minutes.
Transfer ingredients to a high speed blender or food processor and blend until smooth. Strain through a fine sieve, by moving a ladle up and down, forcing the paste through the sieve to remove any seeds or skin. Set aside while making the mole sauce. You can make the paste ahead of time and refrigerate until needed. You will have 2-3/4 cups.
After using 1/3 cup and more if needed, freeze the remaining paste in increments of a heaping 1/3 cup to have onhand the next time you make mole.
For the mole sauce, in a medium saucepan, place second quart of broth, onions, tortillas, raisins, pumpkin seeds and bay leaf. Bring to a boil. Reduce heat and simmer for 10 minutes, stirring occasionally.
Remove bay leaf and transfer mixture to a large container. Blending in 2 batches, pour half of the mixture in a high speed blender. Start on low and increase to high speed and blend for 40-50 seconds, until smooth. Return mixture to saucepan. Repeat with remaining mixture.
Place saucepan on stove and turn on heat to medium. Add pepper paste and chocolate to pureed mixture. Bring to a gentle simmer and cook for 5 minutes.
Taste mole sauce for spiciness and add additional pepper paste if desired, a tablespoon at a time. Season with salt, if needed.
Notes
At our local market, mulatto chiles are not always available. When that's the case, we increase the other chiles.
Capsaicin is concentrated in the tissue of a chili pepper and can cause a burning sensation on any part of the skin it touches. The tingly burning can last for hours after handling hot peppers without gloves. The capsaicin from your hands can also burn your eyes if you should rub them.
Courses Sauces & Condiments