Enjoy the flavors of Greece and see how sorghum enhances the goodness of this Greek Sorghum Salad with every bite.
A lot of Greek salads and bowls are made with couscous, farro, or wheat berry. We replace the wheat with gluten-free and healthy, whole grain sorghum.
Call it a salad, or call it a bowl…you'll love the flavors!
This dish came about with having leftover Greek dressing in the fridge.
We just finished developing recipes for the American Kidney Fund. One of the recipes we developed was a Greek Couscous Salad, hence the leftover dressing. We used couscous and feta cheese in the salad because they are low in phosphorus and potassium.
The dietary and nutritional management of chronic kidney disease is very complex. For a quick explanation about phosphorus and potassium, as kidney function diminishes, extra phosphorus can start building up in the blood, causing the bones to get weaker. Excess potassium can harm the heart and cause an irregular heartbeat or difficulty breathing.
We All Are Different
It's just amazing how our bodies are all so different, and how some foods can be so good for some, yet harmful, and even deadly for others.
The Greek Couscous Salad is a good choice for those with kidney disease, however, it's off limits for those with celiac disease, Hashimoto's Thyroiditis, allergies to wheat and milk, and so many other special diets.
We tweaked the recipe to be allergy-friendly. The pearl couscous was replaced with sorghum, which is about the same size, but has a delicious bit of chewiness to it.
Not good for everyone, this dish now restricts someone with kidney disease who is on a renal diet from eating it. Why? Because sorghum is high in potassium and phosphorus. We also added artichokes hearts, which are also high in potassium.
We didn't want our leftover dressing to go to waste, so here we have our ingredients for this allergy-friendly version of our Greek Couscous Salad.
Let's talk about this salad.
This was super easy, since we had some cooked sorghum in the freezer. Because it takes about an hour to cook, when we do, we cook a large batch so we can portion and freeze.
You can make the dressing a day or two in advance. In a large bowl, gently toss cooked whole grain sorghum, artichoke hearts, garbanzo beans, cucumbers, black olives, red onions, allergy-friendly cheddar cheese, parsley, and the dressing. That's it!
You can use whatever cheese you like, and add or sub any fun ingredients you want.
And look, it's the perfect lunch box idea for that busy day at work.
We love sorghum and all the health benefits it brings. We talked a lot about the benefits in our recipe post, Thai Sorghum Bowl. Check it out to learn more about this ancient grain and give the Thai Sorghum Bowl a try. It's delicious, we promise!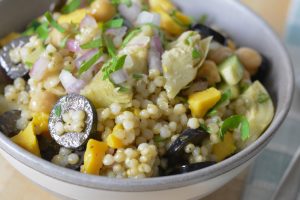 Print
Greek Sorghum Salad
Yield 4 Servings
Free of: gluten and top 8 allergens.
Enjoy the flavors of Greece and taste how sorghum enhances the goodness of this salad with every bite.
Ingredients
Dressing
2 tbsp red wine vinegar
2 tbsp fresh lemon juice
2 tbsp Dijon style mustard
2 tsp honey or agave nectar
2 tsp minced garlic
1/2 tsp dried oregano
1/2 tsp dried parsley (see recipe notes)
1/4 tsp salt
1/8 tsp black pepper
1/4 cup extra virgin olive oil
Salad
2 cups cooked whole grain sorghum (see recipe notes)
1 cup artichoke hearts, quartered
3/4 cup canned garbanzo beans, drained and rinsed (see recipe notes)
1/2 cup diced cucumber
1/2 cup black olives, sliced
1/2 cup diced red onions, soaked in ice water for 10 minutes, rinsed and drained (see recipe notes)
1/2 cup crumbled allergy-friendly cheddar block, such as Daiya (see recipe notes)
1/4 cup chopped flat leaf (Italian) parsley
Instructions
For the dressing, whisk together vinegar, lemon juice, mustard, honey, garlic, oregano, parsley, salt, and pepper. Slowly drizzle in the olive oil while you continue to whisk. This makes a scant 3/4 cup dressing. Cover and place in refrigerator.
For the salad, in a large bowl, place sorghum, artichoke hearts, garbanzo beans, cucumber, olives, onions, cheese, and parsley. Toss gently to combine. Toss in desired amount of dressing. You may not need all the dressing. 
Notes
2 tbsp of fresh chopped parsley can be substituted for dried parsley.
To cook the sorghum, rinse a heaping 3/4's cup of whole grain sorghum and place in a pot with 3 cups of water over high heat. When water comes to a boil, lower heat to medium. Cover and simmer until tender, about 60 minutes. Drain excess liquid. 
Garbanzo beans are also known as chickpeas.
Onions are soaked in cold water to mellow their flavor. The cold water keeps the onion super crunchy, while the sulfur compounds that give onion its pungent, harsh flavor will dissipate in the water.
Feta would typically be the cheese used in a Greek salad. Feel free to substitute a cheese that meets your dietary needs.
Courses Soups and Salads