Fall is cranberry harvest season. We're so glad we don't have to wait for the traditional holiday meal to enjoy this delicious relish.
Call it what you may…chutney, sauce, spread, condiment or relish. Let's look at the endless ways to use this delicious cranberry relish throughout its peak season.

What ends up on our holiday table will be decided by tradition, ethnic favorites, and sometimes wanting to do something different. But most likely, cranberries will be included.
You can substitute cranberry relish for the fruit in many sweet and savory dishes. Here are just a few ideas for using this delicious relish:
As a sandwich spread
A filling for a cake
Spread on toast
Glaze or condiment for chicken, pork or meatloaf
Mixed into your favorite plain allergy-friendly yogurt
Warmed up (or not) and poured over your favorite alternative ice cream
Added to your favorite BBQ sauce
A flatbread or crostini spread
Pancake, waffle or French toast topping
A filling for crepes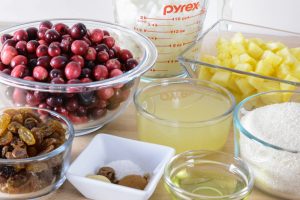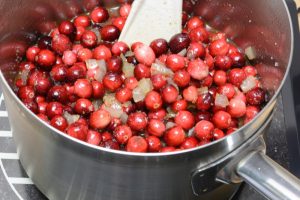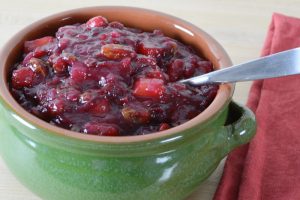 Print
Cranberry Relish
Yield 5-1/2 Cups
Free of: gluten and top 8 allergens.
When it comes to holiday sides, cranberry relish is where it's at. You can use this delectable sauce-spread-chutney-condiment-relish in so many ways.
Ingredients
2 tbsp vegetable oil
2 cups diced yellow or white onion
4 cups fresh or frozen cranberries
1 cup pineapple juice
1 cup golden raisins
1-1/2 cups granulated sugar or coconut sugar
1/2 tsp ground ginger
1/2 tsp ground cinnamon
1/4 tsp ground allspice
1/2 tsp salt
2 cups diced fresh pineapple (See Recipe Notes)
Instructions
Heat the oil in a medium saucepan. Add onions and cook for 5 minutes.
Add cranberries, pineapple juice, raisins, sugar, ginger, cinnamon, allspice and salt. Cook uncovered over medium heat until cranberry skins start to pop, approximately 5 minutes, stirring occasionally.
Add the pineapple and simmer for 15 minutes, uncovered, stirring occasionally.
Transfer to a stainless steel bowl and cool over an ice bath by placing bowl of cranberry relish over a larger bowl filled with ice and cold water. Stir every couple of minutes. When cool, store in refrigerator.
Notes
You can replace the pineapple juice and diced fresh pineapple in the recipe with one (20-ounce) can of pineapple tidbits. Drain and reserve the juice. You will have approximately 3/4's cup of juice. Add water to make 1 cup liquid. Use canned tidbits in place of fresh pineapple.
If you'll be using the relish as a filling for a cake, cook 10-15 minutes longer for a firmer filling. This is great sandwiched between vanilla cake layers, covered with a vanilla frosting.
Courses Sauces & Condiments