Chocolate ganache is the divine blending of pure chocolate and cream. Oftentimes it includes, butter, liqueur or other flavorings. Today, there are many high quality vegan and allergy friendly chocolates on the market that are bittersweet, semisweet or dark.
It's definitely worth paying a little more for good quality chocolate, also called couverture…sweet chocolate containing no added fats other than natural cocoa butter. The problem is, many chocolate manufacturers process in facilities that handle one or more of the top allergens, such as milk, tree nuts, peanuts and/or soy. This doesn't work if you have an allergy to one of those.
We made this ganache using Enjoy Life's Mini Chips. Since Enjoy Life has a dedicated facility, there are no worries of cross contact.
One ganache for so many desserts…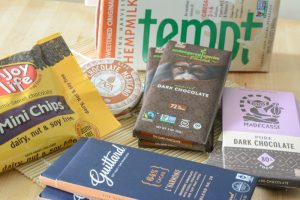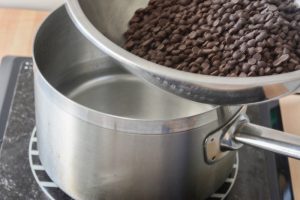 Start by melting coins or finely chopped chocolate in a double boiler, stirring occasionally. Notice the water in the saucepan is only a couple inches deep. The bowl of chocolate should not be in direct contact with the water. Once you place the bowl on the saucepan, lower the heat so the water is gently simmering.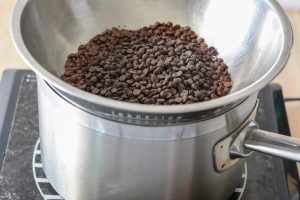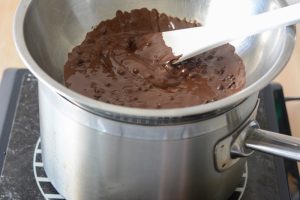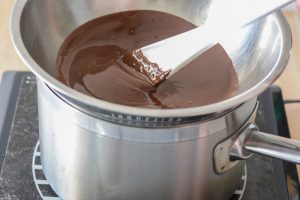 When the chocolate is melted, stir in warmed hemp milk. If the hemp milk is cold, the chocolate will resolidify and lump. Stir the ganache with a rubber spatula or process with an immersion blender to emulsify the milk and chocolate.
Using a whip to whisk the ganache is fast, but the ganache may become grainy and less creamy. However, with the ganache using Enjoy Life mini chips, we finished using the whip just briefly and had great results.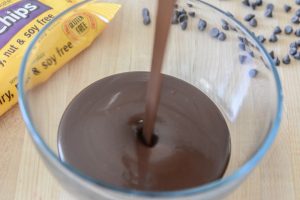 It's that quick and easy. Depending on the application, you can use the ganache immediately, or set ganache aside to cool for approximately one hour, stirring occasionally.
Most of the dessert ideas below, with the exception of the ice cream and fondue, require a cooled and thicker ganache.
Ganache adds decadence and richness to cakes, tarts and more, such as:
glaze for donuts
drizzled warm over ice cream
dipping cupcakes
filling for crepes
layers in trifles
addition to milk shakes
fondue for dipping fruit, pieces of cake and marshmallows
hot chocolate
added to coffee for a mocha
truffles
coating for brownies
glaze for cookies and pastries
Tidbits
Keep chocolate away from steam, as water is an enemy of chocolate, causing it to seize up.
Store leftover ganache in the refrigerator. Ganache can be reheated over a hot water bath, or gently in a microwave at 5 second intervals.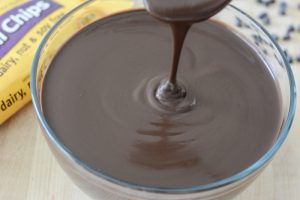 Print
Chocolate Ganache
Yield 2 Cups
Free of: gluten and top 8 allergens.
This ganache is the star of so many desserts. From fondue to ice cream and cakes, and from brownies to donuts and more, this chocolate sauce adds pure decadence. 
Ingredients
10 ounces chocolate (see recipe notes)
1 cup alternative milk, such as hemp
Instructions
Place chocolate in a medium stainless steel bowl. Fill a medium saucepan with about 3-inches of water. Bring the water to a boil. Reduce heat to low and place the bowl of chocolate over the saucepan. The bowl should sit nicely in the saucepan without directly touching the water. Gently stir the chocolate until melted, monitoring the water to ensure it's not boiling, but gently simmering. Turn off heat and remove bowl from saucepan.
Heat hemp milk in a small saucepan or microwave just until warm. Stir warm milk into the melted chocolate. Gently stir until smooth or combine using an immersion blender. Whisking does the job quicker, but depending on the chocolate, may result in a slightly grainy or less creamy ganache. Ganache made with Enjoy Life Mini Chips was finished with the whisk, which helped emulsify the chocolate and milk.
Depending on your application for the ganache, you can use it warm or set ganache aside at room temperature for 1 hour to allow it to cool and thicken slightly.
Notes
Many makers of fine chocolate (couverture), manufacture their chocolate on equipment shared with allergens. Enjoy Life semi-sweet chocolate mini chips are free from the top 8 allergens and make a nice ganache. However, if you use Enjoy Life mini chips, the recipe is: 2 cups (12 ounces) mini chips to 1 cup alternative milk, such as hemp.
Store leftover ganache in the refrigerator. Ganache can be reheated over a hot water bath, or gently in a microwave at 5 second intervals.
Courses Sauces & Condiments