Ring in the New Year with this hearty Black-Eyed Pea and Cornbread Panzanella.
Did you know that eating black-eyed peas on New Year's Day has been considered good luck for at least 1,500 years? There are some traditions that you just can't ignore.
If this tradition is new to you, you may be wondering how it started.
A Tradition is Born
We love the tale behind this tradition. According to American legends, back in the days of the Civil War, the Union troops swept through the South, seizing crops and livestock. Since the Union soldiers considered the fields of black-eyed peas and greens only fit for animal consumption, they left those crops alone.
This humble, but nourishing black-eyed pea became a major source of food for surviving Confederates and the tradition of celebrating these dishes on the new year was born.
This is one reason why black-eyed peas are considered a Southern staple. However, many former Southerners have brought this tradition to other parts of the country.
Health Benefits Abound
Whether you choose to follow the Southern New Year's tradition or not, black-eyed peas are a great source of nutrition. This heart healthy food is low in fat, contains no cholesterol, and is low in sodium. Also high in potassium, iron, vitamin A and fiber, these peas are anti-inflammatory foods.
With the wonderful health benefits of these peas, it would be a shame to limit their consumption to special celebrations. We'll have more peas, please.
Though I'm not a true Southerner, eating black-eyed peas has always been a family tradition on New Year's. Growing up was usually black-eyed peas with rice. When I was on my own, I would heat a can of black-eyed peas to keep the tradition alive.
Let's Jazz it up
This year I set out to perk up those peas. So earlier this week, I made a salad using black-eyed peas and other ingredients popular in the South.
I wanted to add some fruit, and peaches kept coming to mind. However, peaches are not in season now. I'm not a big fan of canned fruit, but my canned fruit of choice would be peaches. I contemplated a while and decided to go for the can. I can imagine making this dish with fresh peaches, but since peaches are not in season, canned peaches make a nice alternative.
We were quite excited about this refreshing salad bursting with flavor. Wanting to elevate it even more and giving it another texture, how about a panzanella salad?
Since panzanella is classically a "bread" salad, we've been wanting to create one for the blog, especially because bread contains allergens. That's the challenge we love, transforming something that is not traditionally allergen-free into something that is.
Adding another bit of Southern comfort to the salad, we thought our sweet potato cornbread would make great bread cubes. Therefore, sweet potatoes are in the oven now. Your favorite cornbread can be substituted.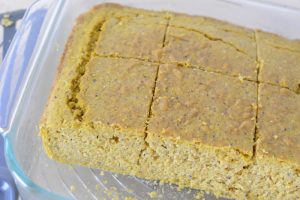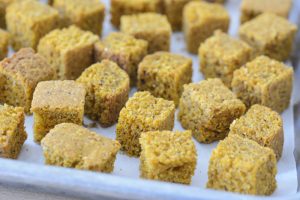 We think the salad has really come together and fits into the New Year's meal, whether you're in the South, North, East or West.
If you think you don't like black-eyed peas, we'd love for you to give this recipe a try. Joel said he wasn't fond of black-eyed peas…until he ate this salad.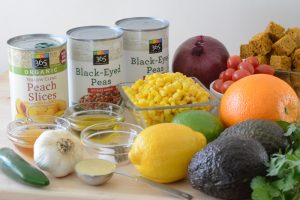 Today, the tradition of eating black-eyed peas for the New Year has evolved into so many variations of the prosperity and good fortune theme. We think this salad has it covered, following the well-known phrase, "Peas for pennies, greens for dollars, and cornbread for gold".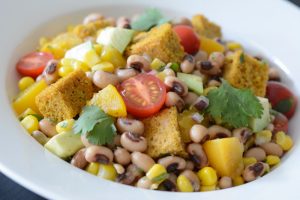 We hope you enjoy this salad year round,
and we wish you all a Happy New Year!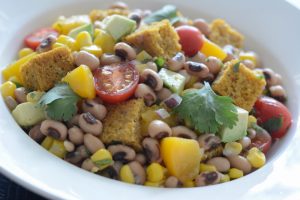 Print
Black-Eyed Pea and Cornbread Panzanella
Yield 6 Servings
Free of: gluten and top 8 allergens.
Health benefits abound with this Black-Eyed Pea and Cornbread Panzanella. This refreshing salad is great for ringing in the New Year or for any time you crave a delicious salad.
Ingredients
4 cups cornbread cubes (see recipe notes)
1/4 cup freshly squeezed orange juice (see recipe notes)
2 tbsp freshly squeezed lemon juice
2 tbsp freshly squeezed lime juice
1 tsp minced garlic
1/2 tsp ground cumin
2 tbsp olive oil
2 tbsp honey or agave nectar
1 tbsp Dijon style mustard
1 tbsp minced jalapeno pepper
1/4 cup diced red onion, soaked in ice water 10 minutes and drained (see recipe notes)
1/4 tsp sea salt
1/4 tsp black pepper
1 pint cherry tomatoes, halved
2 (15-ounce) cans black-eyed peas, drained and rinsed
1-1/2 cups frozen corn kernels, thawed
1 (15-ounce) can peach slices, drained & each slice cut into four OR 1-1/2 cups fresh diced peaches
1/4 cup roughly chopped cilantro
1 large or 2 small avocados, peeled and chopped (see recipe notes)
Instructions
Make or purchase cornbread. Preheat the oven to 350 degrees F. Cut the cooled cornbread into 3/4 to 1-inch cubes. Place cubes on a large baking sheet lined with a silpat or foil. Toast until slightly golden brown, about 20 minutes, turning the cornbread cubes once. Remove the cornbread from the oven and allow to cool completely.
To make the dressing, in a small bowl, whisk together the orange juice, lemon juice, lime juice, garlic, cumin, olive oil, honey, mustard, jalapeño, red onion, salt and pepper. Refrigerate until ready to use.
In a large bowl, combine tomatoes, black-eyed peas, corn and peaches. Add dressing and stir to coat. Place in the fridge for at least 2 hours before serving, stirring occasionally.
Add cornbread croutons and cilantro and let sit for 10-15 minutes, so the bread can soak up juices.
Stir in avocados just before serving.
Notes
You can make your own cornbread or purchase already made.
On average, one medium orange yields 4 tbsp of juice. A medium lemon and lime both yield approximately 2 tbsp of juice each.
Soaking red onions in ice water for 10-15 minutes mellows the flavor so it won't overpower the other ingredients and calms the accompanying aftertaste.
With the citrus juices, the avocado will not brown for about 24 hours. If you know you'll have leftovers for more than a day, don't mix the avocados with the salad. Instead, garnish each plate with avocado as it's served.
Courses Soups & Salads
Nutrition Facts
Serving Size 2 cups
Amount Per Serving

Calories 361

% Daily Value

Total Fat 15.3 g

24%

Saturated Fat 2.5 g

13%

Unsaturated Fat 11.7 g

Sodium 247.2 mg

10%

Total Carbohydrates 52 g

17%

Dietary Fiber 7.9 g

32%

Sugars 13 g

Protein 8.2 g

16%
* Percent Daily Values are based on a 2,000 calorie diet. Your daily values may be higher or lower depending on your calorie needs.