The real stars of the holiday meal are the side dishes, with mashed potatoes taking center stage.

Here's our recipe for making the best mashed potatoes, with recommendations for potato types, purchasing and storing, boiling and mashing.
We're also excited to share the link to a guest post with two recipes we developed for Bob's Red Mill this past week. These potatoes would be a sensational accompaniment to the breaded turkey cutlets with gravy.
Potato Types
Potatoes are classified as mealy or waxy, according to their starch content. We're adding an in-between category, "The Yukon Golds", which are waxy and somewhat starchy.
Mealy or mature potatoes have a high starch content and thick skin. They are great for baking and deep-frying. Their low sugar content allows them to be deep-fried long enough to be cooked on the inside without burning on the outside. They tend to fall apart during the cooking process, thus mashing up light and fluffy, and absorbing alternative butters and milk like a dream.
Russet Potatoes
All-Purpose Potatoes
Waxy potatoes have a high moisture content, high sugar content and low starch content. They hold their shape well when cooked and are great for using in salads. However, they get limp and soggy when deep-fried because of their high moisture content.
Small and large red-skinned potatoes
White potatoes
Small and large yellow potatoes
Potato Recommendations
Our favorite spuds for making perfect mashed potatoes every time are russets for their creaminess and Yukon golds for their buttery flavor and color.
Signs of a Good Potato
Firm and smooth
Dry skin
Shallow eyes (indentations in the skin)
No sprouts (sprouting potatoes are high in sugar)
No green (green areas are caused by storing potatoes in light and indicate the possible presence of a toxin called solanine, which has a bitter taste and is poisonous in large amounts…Peel away all green spots before cooking)
Storing
Store in a cool, dry, dark place. The best temperature is between 50-65 degrees F. The reason for storing in a dark room is because light promotes chlorophyll production, turning them green and bitter.
While working at Whole Foods Market, I remember our produce team covering the massive amounts of potatoes every night to eliminate as much exposure to light as possible.
Russets don't do well in the refrigerator. Temperatures below 40-45 degrees F convert potato starch to sugar.
On the other hand, we do refrigerate waxy potatoes for several days before cooking, making them sweeter and firmer.
Procedure for Cooking Potatoes
After washing, peeling or trimming potatoes, cut into uniform-sized pieces to promote even cooking. If the pieces are too small they will absorb a large amount of water as they cook, making the final product soggy. A good rule of thumb is to cut each potato into 4 or 6 uniform-sized pieces for russets or 1 to 2-inch cubes for small potatoes or Yukon golds.
Add the potatoes to a saucepan and add enough cold water to cover them by several inches. Starting potatoes in cold water allows for more even cooking and heat penetration from outside to inside. Bring to a boil, then reduce to a simmer. Boiling potatoes rapidly will cause the potatoes to break apart, making for mushy spuds. Finally, potatoes should not be cooled in or under cold water, unlike most vegetables, as this can make them soggy.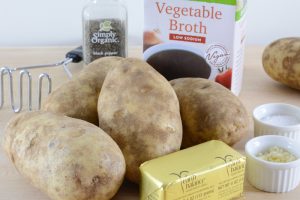 Mash Up
What's the best way to mash your potatoes?
Some say potato mashers create gummy spuds and the light and fluffy consistency of mashed potatoes can only be achieved by using a potato ricer or a food mill.
We feel they all get the job done.
The key to using a potato masher is not to over-mash, which ruptures starch granules, resulting in gummy potatoes. A potato masher is the most economical way to go and the best way if you like a slightly lumpy mash.
A ricer creates less lumps and more fluff.
A food mill does the same as a ricer with a bonus of separating the skin so no advanced peeling is necessary.
But, what if you like the skin in your potatoes? The potato masher is the way to go.
Mashed potatoes go great with so many things, including these breaded turkey cutlets with gravy that are perfect for the holidays or any night of the week – quick, easy and delicious! It's like Thanksgiving dinner year-round.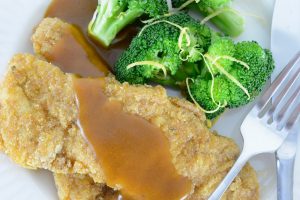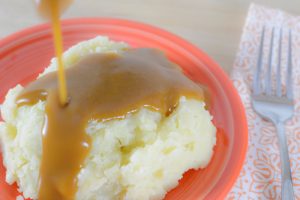 Print
Best Ever Mashed Potatoes
Yield 6 Servings
Free of: gluten and top 8 allergens.
Mashed potatoes are the star of any meal. Here's our recipe for making the best!
Ingredients
3 pounds russet potatoes, approximately 8-10 medium potatoes (see Recipe Notes)
1-1/2 tsp salt, divided (1 tsp plus 1/2 tsp)
dash white or black pepper
4 tbsp dairy-free, soy-free margarine, such as Earth Balance buttery sticks
2 tsp minced garlic
1 cup vegetable broth
Instructions
To cook the potatoes, wash, peel and cut each potato into 4 to 6 uniform-sized pieces or 1 to 2-inch cubes. Place all spud cubes into a large saucepan and cover with cold water by several inches. Add 1 tsp salt to the pot, cover and bring to a boil over high heat.
When the water boils, remove the lid, drop the heat to a simmer, and cook for 10-20 minutes or until potatoes are tender, but not mushy. Boiling will lead to waterlogged pieces. At 8 minutes, start testing a few of the potato cubes for doneness by piercing with tines of a fork or sharp knife. Fork or knife should glide easily through potato. Cooking time will depend on size of cubes. When cooked, drain potatoes over a colander. Do not rinse. Return to warm pot off heat to dry potatoes. Toss gently for 30 seconds to knock off any excess surface moisture. The drier the spuds the better. Sprinkle with 1/2 tsp salt and pepper.
For the margarine, garlic and vegetable broth, about 5 minutes before the potatoes are done, melt margarine in a small saucepan over medium heat.
Add garlic and cook for 30 seconds.
Add broth; bring to a boil. Lower heat and simmer for 1 minute. Set aside until potatoes are done.
To mash, pour about a quarter of the hot broth over the potatoes and start mashing with your potato masher.
As the potatoes break down, add the remaining broth and mash to desired texture, being careful not to over-mash in trying to smooth every piece.
Notes
You can substitute Yukon gold potatoes for russets, or use a combination of both.
Over-mashing will rupture starch granules, which results in gummy potatoes. If you prefer mashed potatoes that are not a little chunky, it's best to use a ricer or food mill.
Courses Veggies & Sides