Apple lovers rejoice, because apple season is finally here!
We created a version of this classic dessert while working at Walt Disney World to be served during the celebration of Walt Disney's 100th birthday. This was an exciting year long celebration that took place at all parks and resorts.
While researching Walt's favorite desserts and having the privilege of talking with both his daughter, the late Diane Miller and his former secretary, the late Lucille Martin, the favorites were uncovered. Walt loved dessert and their cook prepared a sweet treat every night. Diane said her dad loved comfort desserts like Apple Brown Betty, pies, custards, bread pudding, baked apples and jello.
Here's a tribute to Walt with one of his favorites, Apple Brown Betty, which we made free of the top 8 allergens.
How About Them Apples!
It's funny how things sometimes happen. Last week we were working on this week's post for Apple Brown Betty. That very same day we found out that this Thursday is "Apple Betty Day".  It's true! National Apple Betty Day, an American Food holiday, is observed each year on October 5. What a coincidence!
Apple Brown Betty is one of the oldest dishes in American culinary history, dating back to colonial times. The recipe was first published in the 1864 Yale Literary Magazine as "brown Betty".
Who is Betty?
Brown being lowercase and Betty capitalized, probably means Betty was a specific person. Consequently, whoever the lady was created an amazing fall classic so good that a holiday was proclaimed in her honor.
The Essentials
Fruit and dough. Combine them in different ways and you've got the whole extended family that includes cobblers, crisps, crumbles, pandowdies, shortcakes and of course, brown Bettys.
This classic, created by simply baking apples and crumbs, yields a dessert with the consistency like bread pudding. Sounds pretty easy, doesn't it?
Which Apples to Use?
The best apples are ones that hold up to cooking. Apples with a good acid content are usually better for cooking than eating varieties like Red Delicious. We like to use a combination of Granny Smith apples and one or two of the following varietals: honey crisp, pink lady, gala, golden delicious or braeburn.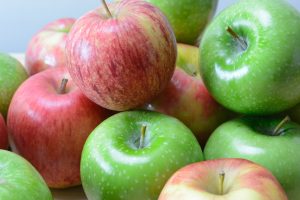 In addition to just how sweet in history this dessert is, did you know that Apple Brown Betty was one of the favorite desserts of Ronald and Nancy Reagan in the White House? No doubt that Apple Brown Betty may also become one of your favorite desserts once you try this recipe.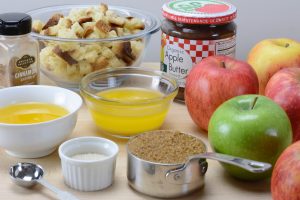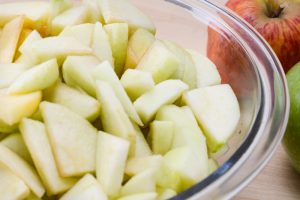 Hooray! This is truly a holiday to celebrate! Apples, Walt Disney, Ronald and Nancy Reagan and You!
Make and share this easy Apple Brown Betty and to all…
Happy "Apple Betty Day"!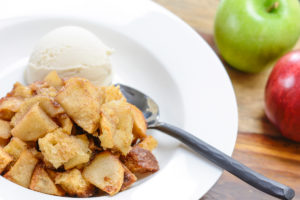 Print
Apple Brown Betty
Yield 4 Servings
Free of: gluten and top 8 allergens.
One of Walt Disney's favorite desserts, Apple Brown Betty is loaded with the best fall has to offer.
Ingredients
6 -7 slices allergy friendly bread, crusts included (such as Follow Your Heart Brioche)
1/2 cup prepared apple butter
1/2 cup packed light brown sugar
1 tsp ground cinnamon
5 cups chopped tart apples, approximately 5 or 6 medium apples (see recipe notes)
2 tbsp orange juice (see recipe notes)
6 tbsp dairy-free, soy-free margarine (such as Earth Balance), melted and divided (4 tbsp + 2 tbsp)
2 tsp granulated sugar
Vanilla non-dairy frozen dessert
Instructions
Preheat oven to 300 degrees F.
Stack a couple of slices of bread. Using a serrated knife, cut the bread into 3/4-inch strips. Cut the strips crosswise into 3/4-inch cubes. Repeat with the remaining slices. You should have 4 cups of cubed bread.
Arrange bread cubes in a single layer on a baking sheet. Bake for 10 minutes, tossing once. They will not be completely dry. Remove from oven and allow to cool. 
Increase oven temperature to 375 degrees F. Lightly grease an 8-inch square baking dish. Spread apple butter evenly on bottom of baking dish. Set aside.
Combine brown sugar and cinnamon in a small bowl. Set aside.
Peel, core and cut approximately 6 or 7 apples into quarters. Cut the quarters lengthwise into 1/4-inch slices. Cut slices in half crosswise. You will need 5 cups.
Combine apples with brown sugar and cinnamon mixture.
Add orange juice, bread cubes and drizzle with 4 tbsp allergen-free margarine. Toss gently to combine. Place in baking dish.
Brush the top with remaining allergen-free margarine. Sprinkle with granulated sugar.
Cover the dish with aluminum foil and bake until the apples are tender, about 40 minutes. Remove the foil and bake another 15 minutes, or until the top is lightly browned and crisp.
Serve warm with your favorite non-dairy frozen dessert.
Notes
We used a combination of Granny Smith, Braeburn and Gala apples.
Berries, peaches or pears can be substituted for the apples, though the baking time may need to be adjusted.
Early versions of this dessert include dry sherry. If you're up to it, replace the orange juice with dry sherry. We recommend a "Fino" sherry.
Courses Sweets