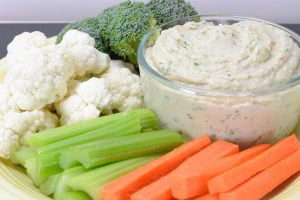 White Bean Dip
Yield 2-1/4 Cups
Free of: gluten and top 8 allergens.
Just a few minutes of prep creates a delicious, smooth and creamy white bean dip that is so versatile.
Ingredients
2 (15-ounce) cans great northern white beans, drained and rinsed
1 garlic bulb (see recipe notes)
2 tsp plus 1/4 cup olive oil, divided
2 tbsp fresh lemon juice
2 tbsp chopped fresh parsley, stems removed
1/2 tsp sea salt
1/8 tsp ground white pepper
Instructions
Preheat oven to 400-degrees F.
To roast the garlic, peel and discard the loose outer layers of the bulb, leaving cloves intact. With a sharp knife, cut 1/4 to 1/2-inch from the top to expose cloves. Drizzle exposed head with 2 teaspoons of olive oil, using your fingers to rub the oil over the cut exposed cloves. Tightly wrap garlic bulb in foil.
Place wrapped garlic in oven and bake for 30-40 minutes, or until garlic cloves feel soft when pressed. Do not over bake and brown garlic bulb too much; the flavor of brown garlic is too strong for this dip. Keeping in the foil, set garlic aside to cool slightly. 
Place beans in a food processor. 
When cool enough to handle, squeeze roasted garlic flesh from the bulb. Measure 1 tablespoon of roasted garlic and add to the beans in the food processor. Feel free to add more garlic to your taste. Reserve remaining roasted garlic for another use.
Add lemon juice, parsley, salt, pepper and 1/4 cup olive oil to food processor. Process until smooth. If the dip is too thick, add 2 tablespoons of vegetable broth or olive oil and process for an additional 30 seconds.
Transfer to an appropriate container and store in the refrigerator for up to 3 days. 
Notes
You can substitute 2 teaspoons of raw minced garlic for the roasted garlic. Though this is a time saver, we prefer the addition of roasted garlic.
Raw garlic has a strong, pungent and heated taste. Garlic mellows and sweetens considerably with cooking. We love the well-balanced, delicate, sweet and nutty flavor that roasted garlic offers.
Roasting garlic also changes the chemical makeup of the garlic so it's easier to digest.
Courses Starters
Recipe by Allergy Chefs at https://www.yourallergychefs.com/white-bean-dip/