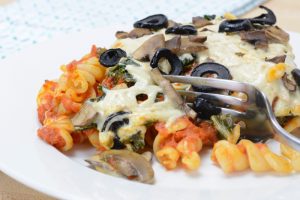 Veggie Pizza Pasta Bake
Yield 6 Servings
Free of: gluten and top 8 allergens.
Follow this fun and simple recipe for a delicious, oven lovin' and crowd pleasing casserole.
Ingredients
1 (8-ounce) package of allergy-friendly pasta, such as Andean Dream Fusilli (about 4 cups cooked)
4 cups firmly packed kale, stems and ribs removed, and rinsed (2 ounces)
10 ounces cremini or button mushrooms, sliced
3/4 cups pitted black olives, sliced
1 (24-ounce) jar marinara, such as Rao's all purpose marinara
8 ounces mozzarella-style "cheeze" shreds, such as Daiya
Instructions
Preheat oven to 350-degrees F.
Cook pasta according to package directions. Drain in a colander and rinse under cold water. Set aside.
Place kale in a steaming basket. Fill a large saucepan with about 2-inches of water and bring to a boil over high heat. Add basket of kale. Cover and reduce heat to medium-low. Steam kale until wilted, approximately 2-3 minutes. Remove from heat and roughly chop when cool. Set aside. 
In a large saucepan over medium heat, add mushrooms and saute for 8-10 minutes. It may be necessary to add a tablespoon of water at the beginning of cooking to prevent mushrooms from sticking to pan. The cooked mushrooms will yield approximately 1 cup. Set aside.
To assemble, lightly coat a 7-1/2 x 11-inch baking dish with an allergy-friendly margarine or oil. Line baking dish with 4 cups of cooked pasta. Pour sauce evenly over pasta. Arrange kale over sauce. Sprinkle evenly with mozzarella shreds. Top with mushrooms, followed by olives.
Bake uncovered for 35-40 minutes, until the cheese melts and casserole is bubbling.
Remove from oven and allow casserole to stand for 10 minutes. Dig in and enjoy!
Notes
One box of Andean Dream Fusilli yields 4 cups cooked pasta. Package directions instruct cooking pasta for 14-16 minutes. We found that about 10-11 minutes cooks the pasta al dente and perfect to handle the additional cooking in the oven.
Courses Mains
Recipe by Allergy Chefs at https://www.yourallergychefs.com/veggie-pizza-pasta-bake/