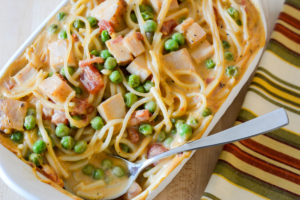 Turkey Spaghetti
Yield 6 Servings
Free of: gluten and top 8 allergens.
When you need an idea for leftover turkey, this cheesy turkey spaghetti is sure to please.
Ingredients
8 ounces uncooked allergy-friendly spaghetti, broken into 3-inch pieces
3 tbsp dairy-free, soy-free margarine or buttery sticks, such as Earth Balance
3 tbsp sweet white rice flour (see recipe notes)
1 tsp dried Italian seasoning (see recipe notes)
1 cup rice milk
1/2 cup chicken or vegetable broth
1 (15-ounce) can fire-roasted diced tomatoes, undrained
8 ounces shredded dairy-free cheese blend, such as Daiya Classic Blend, about 2 cups (see recipe notes)
2 cups shredded or chopped cooked turkey
1 1/2 cups frozen peas, thawed
Instructions
Cook the spaghetti according to package directions. Drain and rinse with cold water. Shake off excess water and set aside.
Preheat oven to 350-degrees F.
Melt the margarine in a medium saucepan over medium-low heat. Add flour and cook 5 minutes so the flour loses its raw taste, stirring often.
Add Italian seasoning. Whisk in rice milk, followed by the broth, until smooth. Add tomatoes and heat until mixture has thickened, about 5 minutes.
Sprinkle in cheese and cook until melted, about 5 minutes, stirring often. 
In a large bowl, add spaghetti, turkey, peas, and sauce. Stir gently to combine.
Transfer to an 8x8-inch baking dish. Bake for 25-30 minutes, until bubbling.
Notes
Sweet white rice flour is ground from short-grain glutinous rice and is different from white rice flour, which is made from ground white rice. Neither white nor brown rice flours are a substitute for sweet white rice flour, and will not yield the same results.
If you don't have dried Italian seasoning, you can substitute 1/2 tsp dried oregano and 1/2 tsp dried thyme.
Daiya's Classic Blend is a mix of cheddar and mozzarella shreds. If you can't get find a blend, use 1 cup each of your favorite cheddar and mozzarella shreds.
Make Mine Veggie! To make the casserole vegan, omit the turkey and use vegetable broth. 
Courses Mains
Recipe by Allergy Chefs at https://www.yourallergychefs.com/turkey-spaghetti/