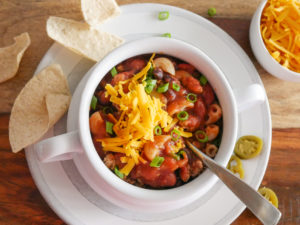 Turkey Chili Mac
Yield 6 Servings
Free of: gluten and top 8 allergens.
Filled with hearty flavors of turkey, beans, and macaroni, this turkey chili mac is simple to prepare and makes a great meal that even picky kids will love!
Ingredients
6 ounces dry weight elbow macaroni pasta
1 tbsp olive oil
1 cup diced onion
1/2 cup diced green bell pepper
2 tsp minced garlic
1 pound lean ground turkey
1 1/2 tsp chili powder
1 tsp ground cumin
1/2 tsp smoked paprika
1/2 tsp salt
1 (15-ounce) can red kidney beans, rinsed and drained
1 (15-ounce) can black beans, rinsed and drained
1 (14.5-ounce) can diced tomatoes
1 (8-ounce) can tomato sauce
1 cup gluten-free beer or chicken stock
1 cup cheddar style shreds, such as Daiya
1 jalapeno, thinly sliced (garnish)
Instructions
Cook pasta according to package directions. Drain in a colander and rinse under cold water, draining well. Set aside.
Heat oil in large heavy duty pot (or casserole pot) over medium-high heat. Add onions and cook for 4 minutes, stirring often. Add peppers and garlic and cook for 1 minute.
Add turkey and cook until browned, breaking up any big chunks. Drain any excess fat.
Stir in the chili powder, cumin, paprika, and salt and mix through until turkey is fully coated in the seasonings.
Mix in the beans, diced tomatoes, tomato sauce, and beer or broth. Bring to a boil, then lower heat to medium-low and simmer while stirring occasionally, until the chili thickens, about 10 minutes.
Add the cooked pasta and gently toss to combine. 
Portion into bowls. Top with cheese and sliced jalapeños.
Notes
Make Mine Veggie!
Substitute any of the following for the ground turkey:
8 ounces chopped mushrooms, button or cremini
2 cups steamed veggies, such as broccoli and/or cauliflower florets
1 cup frozen corn, thawed
1 (15-ounce) can pinto or garbanzo beans, drained and rinsed
If using mushrooms, start the recipe by sautéing mushrooms for about 8 minutes. Add onions and proceed with recipe, omitting the turkey.
If adding steamed veggies, add during the last 5 minutes.
For corn, also add during the last 5 minutes of cooking.
For the extra can of beans, add with the kidney and pinto beans. 
Courses Mains
Recipe by Allergy Chefs at https://www.yourallergychefs.com/turkey-chili-mac/