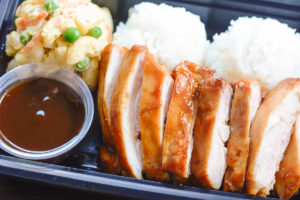 Teriyaki Chicken Plate Lunch
Yield 4 Servings
Free of: gluten and top 8 allergens.
There's no better way to indulge than with a teriyaki chicken plate lunch.
Ingredients
1 cup coconut aminos
1 cup fresh orange juice or pineapple juice, or a combination of
1/4 cup mirin or rice vinegar
1/4 cup honey or organic cane sugar
1 tbsp minced ginger
1 tbsp minced garlic
2 tbsp cornstarch
1/4 cup water
4 large boneless, skinless chicken thighs (about 1 pound)
8 scoops calrose rice, cooked according to package directions
4 scoops Potato-mac salad
Instructions
In a small saucepan, combine coconut aminos, orange juice, mirin, honey, ginger, and garlic. Reserve 1/2 cup for marinating chicken thighs.
Place chicken and reserved sauce in a large zip lock bag. Seal and marinate in the fridge for 8 hours.
While the chicken is marinating, bring the ingredients in saucepan to a boil over high heat. Reduce heat to medium and simmer for 10 minutes, stirring occasionally.
Combine cornstarch and water in a small bowl; stir until smooth paste forms. Whisk the cornstarch slurry into the simmering sauce, whisking constantly for 2 minutes.
Strain the teriyaki sauce into a bowl. Allow to cool and refrigerate until needed. This will yield about one and a half cups of sauce. Warm up right before serving.
Take marinated chicken out of the fridge 20 minutes before cooking, to let it warm up. Drain well.
Preheat oven to 350-degrees F. Heat a large non-stick skillet over medium-high heat. Add chicken thighs, smooth side down and sear for about 1 minute, until golden brown. Flip over for another minute to brown the other side.
Transfer chicken to a parchment or foil lined baking sheet. Bake until internal temperature reaches 165-degrees F, about 8-10 minutes. To test for doneness, use an instant read meat thermometer inserted into the center of the thickest part of the thigh.
Remove chicken from oven. Cover loosely with foil and allow chicken to rest for 5-10 minutes.
To serve: on each plate, place 2 scoops rice, one scoop potato-mac salad, and chicken. Serve with warm teriyaki sauce on the side.
Notes
Make Mine Veggie!
Make mine veggie with teriyaki portobello mushrooms! Following this recipe for teriyaki chicken, simply replace the chicken thighs with 4 portobello mushrooms and omit the marinating.
Cut the stems off the mushrooms and scrape out the gills. Pour 1/2 cup teriyaki sauce into a small bowl. Slide a portobello into the sauce with the underside facing up. Spoon sauce over the mushroom, coating the entire mushroom. Place the mushroom on a parchment lined baking sheet, underside facing up. Repeat with remaining mushrooms.
Bake at 375-degrees F for about 15 minutes or until mushrooms reach desired tenderness. Slice and serve with rice and potato-mac salad.
Courses Mains
Recipe by Allergy Chefs at https://www.yourallergychefs.com/teriyaki-chicken-plate-lunch/