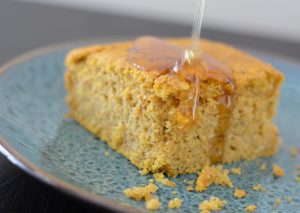 Sweet Potato Cornbread
Yield One (8x8-inch) pan
Free of: gluten and top 8 allergens.
Take a break from traditional cornbread with this sweet potato version. It's great by itself, or for breakfast with honey or jam. Pairing it with almost any soup, stew or chili elevates it even further.
Ingredients
1 cup mashed sweet potato (approximately 1 large potato)
2 tbsp flaxseed meal
6 tbsp lukewarm water
3/4 cup gluten-free flour blend
1-1/4 cups yellow cornmeal
1 tbsp baking powder, sifted
1/2 tsp baking soda, sifted
1 tsp salt
1/4 cup firmly packed brown sugar
1/2 tsp ground cinnamon
1/2 tsp ground nutmeg
4 tbsp dairy-free, soy-free margarine, such as Earth Balance buttery sticks, melted & cooled
1 cup alternative milk, such as unsweetened hemp milk
Instructions
Preheat oven to 400 degrees F. 
Lightly grease an (8x8x2-1/4-inch) pan. Set aside.
Wash and pierce sweet potato several times with tines of fork or tip of sharp knife. Loosely wrap sweet potato in foil and place on middle oven rack. Bake until tender, about 60 minutes. Baking time may vary depending on oven and size of potato. When cooked and cooled, cut sweet potato in half and scoop out flesh, mashing slightly with fork. Reserve 1 cup.
In a small bowl, whisk together flaxseed meal and water. Set aside for at least 5 minutes.
In a large bowl, whisk together flour blend, cornmeal, baking powder, baking soda, salt, sugar, cinnamon, and nutmeg.
Return to the flaxseed mixture and vigorously whisk.
In a medium bowl, combine flaxseed mixture, margarine and milk. Add reserved sweet potatoes and mix well. 
Fold wet mixture into dry ingredients. Stir just until ingredients are combined.
Spread batter evenly in prepared pan and smooth top of batter.
Bake 25 - 30 minutes or until golden brown and done.
Let cool for at least 15 minutes before slicing.
Notes
You can also bake in a cast iron skillet. If you have a 9-inch seasoned cast iron skillet, oil lightly and preheat skillet along with oven. Pour batter into hot skillet and bake at 400 degrees F for 15 - 25 minutes. Baking in skillet will take less baking time than in baking dish.
Courses Veggies and Sides
Recipe by Allergy Chefs at https://www.yourallergychefs.com/sweet-potato-cornbread/