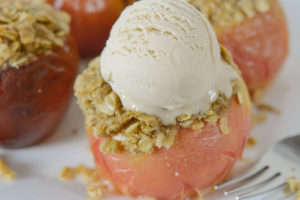 Streusel Stuffed Baked Apples
Yield 6 Servings
Free of: gluten and top 8 allergens.
A crispy oat topping is baked inside whole apples for a simple, yet elegant dessert everyone will love!
Ingredients
1/2 cup gluten-free all-purpose flour blend
1/4 cup lightly packed light brown sugar
1/4 tsp sea salt
6 tbsp cold dairy-free, soy-free margarine or buttery sticks, such as Earth Balance, cut in small cubes
1 cup gluten-free old fashioned oats
6 medium apples, such as Braeburn, Gala, or Honeycrisp (see recipe notes)
2 tbsp pure maple syrup or honey
Instructions
For the streusel, in a medium bowl, whisk together flour, sugar and salt. Using a pastry cutter, or your hands, incorporate margarine into flour mixture until it resembles coarse crumbs. Add oats and work into mixture. Set aside in fridge while preparing the apples.
For the apples, preheat oven to 350-degrees F. Rinse and dry the apples. Cut a small layer off the bottom of each apple to create a flat and stable bottom surface.
Cut a crosswise slice from the top of each apple, about 1-inch thick. Using a paring knife, cut a cylindrical cone out of the top of each apple, coring the apples and creating a bowl. Using a melon baller or teaspoon, dig out the remaining core and seeds, leaving the bottom half-inch of the apples intact.
Place 1 tsp of maple syrup or honey in each cavity. Divide the streusel between the apples, filling the cavities and forming a mound on top of each apple.
Place the apples in a baking dish and fill with about 1/2-inch of hot water. Place in oven and bake until tops are golden brown and apples are tender, yet still retain their shape, about 45-60 minutes. Bake time depends on size and type of apple. You may have to tent the tops with foil half way through to prevent from over-browning.
Remove from oven and allow to cool for 10 minutes before serving. Top with allergy-friendly vanilla ice cream, if desired.
Notes
Honeycrisp, Gala, Braeburn, Fuji, Jonagold, Rome Beauty and McIntosh are just a handful of apples that are great for baking whole.
Courses Sweets
Recipe by Allergy Chefs at https://www.yourallergychefs.com/streusel-stuffed-baked-apples/