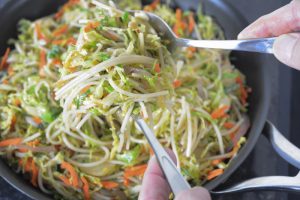 Shaved Brussels Sprouts and Spaghetti Stir-fry
Yield 4 Servings
Free of: gluten and top 8 allergens.
This shaved Brussels sprouts and spaghetti stir-fry is so delicious, light and refreshing that even picky eaters come back for more.
Ingredients
6 ounces dry spaghetti
2 tbsp grapeseed oil
1 cup thinly sliced red onion
1 tbsp minced fresh ginger
1 tbsp minced garlic
1/2 tsp crushed dried red pepper flakes
4 1/2 cups Brussels sprouts, thinly sliced or shredded (about 10 ounces)
3/4 cup sliced water chestnuts
1/2 cup reduced-sodium vegetable broth, or more as needed
3 tbsp coconut aminos
1/2 cup shredded carrots
1/4 cup chopped fresh basil
1/4 cup toasted sunflower seeds, optional
Instructions
In batches, break spaghetti into 3 pieces. Cook according to package directions. Drain and rinse with cold water. Set aside.
Heat oil in a wok or large skillet over medium-high heat. Add onion and cook for 2 minutes. Add ginger, garlic, and dried red pepper and stir-fry 30 seconds.
Add Brussels sprouts and water chestnuts and stir-fry 1 minute.
Add broth and coconut aminos. Cook 2 minutes more or until liquid is nearly evaporated, tossing frequently. If it is too dry, add a couple more tablespoons of broth, as needed. Stir in cooked spaghetti and heat through. Remove from heat.
Add carrots and basil. Toss to combine. Sprinkle with sunflower seeds, if desired. If almond allergy is not an issue, feel free to replace sunflower seeds with toasted slivered almonds.
Courses Mains
Recipe by Allergy Chefs at https://www.yourallergychefs.com/shaved-brussels-sprouts-and-spaghetti-stir-fry/