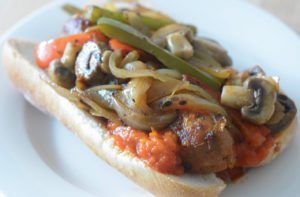 Sausage Hoagies with Onions, Peppers, and Mushrooms
Yield 6 Hoagies
Free of: gluten and top 8 allergens.
A breeze to whip up, this delicious hoagie is filled with sausage, sautéed peppers, mushrooms, and onions.
Ingredients
6 Italian sausage links, sweet or hot
2 1/2 cups sliced onions
3/4 cup sliced green bell peppers
3/4 cup sliced red bell peppers
8 ounces sliced button mushrooms
6 allergy-friendly hoagie rolls or hot dog buns
1 1/2 cups marinara, such as Rao's
6 slices provolone cheese, such as Follow Your Heart or Violife (see recipe notes) - optional
Instructions
Heat a large skillet or cast iron pan over medium-high heat. 
Add sausages and cook covered with a splatter screen, for 5 - 7 minutes, turning them occasionally so they brown on all sides. Remove sausages from pan and set aside.
Add onions and peppers. Toss to coat with the oil from the sausages. Cover and cook for 3 - 5 minutes, stirring occasionally.
Add mushrooms. Cover and cook for 3 - 5 minutes, until vegetables are tender, stirring occasionally. It may be necessary to add 2-4 tablespoons of water, a tablespoon at a time as needed.
Return the sausages to the pan with the vegetables. Cover and reduce heat to medium. Cook until sausages are reheated.
Fill each hoagie or bun with a sausage. Top each sausage with 2 - 3 tablespoons of marinara. Top with cheese and a little more marinara, if desired.
If adding cheese, bake in an oven, preheated to 400-degrees F for 5 - 10 minutes, until cheese melts.
Serve with plenty of napkins, and enjoy! 
Notes
Use your favorite provolone or mozzarella cheese slices or mozzarella style shreds, such as Daiya.
Courses Mains
Recipe by Allergy Chefs at https://www.yourallergychefs.com/sausage-hoagies-with-onions-peppers-and-mushrooms/