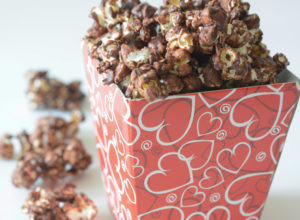 Salted Chocolate Popcorn
Yield 3 Quarts
Free of: gluten and top 8 allergens.
Kick up your movie night with salted chocolate popcorn!
Ingredients
1/2 cup organic popcorn kernels
6 ounces allergy-friendly chocolate chips, such as Enjoy Life Mini Chips (1 cup)
1/2 tsp sea salt
Instructions
Pop popcorn kernels according to manufacturer's instructions. The healthiest option is popping in an electric air popper. You should have about 12 cups of popped popcorn. Place in a large bowl and set aside.

Fill a saucepan with a couple inches of water and bring to a boil. Place chocolate in a bowl; the bowl of chocolate should not be in direct contact with the water. Once you place the bowl on the saucepan, lower the heat so the water is gently simmering. Melt the chocolate, stirring occasionally.

Remove the melted chocolate from heat. Wipe the bottom of the bowl to dry any condensation. Immediately pour over the popcorn and stir to coat as thoroughly as possible. We like to wear disposable food grade vinyl gloves, tossing with our hands. 
Spread evenly onto a baking sheet lined with parchment paper. Sprinkle with a little sea salt. Let sit at room temperature until the chocolate has hardened and set, about an hour. 
This keeps for up to 3 days in an airtight container.
Courses Sweets
Recipe by Allergy Chefs at https://www.yourallergychefs.com/salted-chocolate-popcorn/