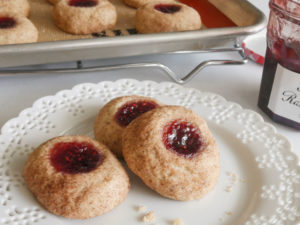 Raspberry Thumbprints
Yield 18-20 Cookies
Free of: gluten and top 8 allergens.
Melt-in-your-mouth, sugary bites of bliss!
Ingredients
Cinnamon-Sugar
1/2 cup granulated sugar
2 tsp ground cinnamon
Dough
1 tbsp ground flaxseed meal
3 tbsp lukewarm water
2 cups gluten-free all-purpose flour blend
1/2 tsp xanthan gum (omit if your flour blend contains xanthan gum)
1/2 tsp sea salt
1/4 tsp baking soda
1/4 tsp ground cinnamon
1/3 cup vegan buttery spread, such as Earth Balance Natural Buttery Spread, Soy Free
1/2 cup granulated sugar
1/4 cup light brown sugar, lightly packed
1 tsp pure vanilla extract
2 tbsp alternative milk, such as unsweetened hemp milk, if needed
Filling
1/3 cup raspberry jam
Instructions
Preheat oven to 375-degrees F.
To make the cinnamon-sugar, in a small bowl or ziploc bag, combine 1/2 cup granulated sugar and 2 teaspoons ground cinnamon. Mix well and set cinnamon-sugar aside.
Make the flax egg by whisking together flaxseed meal and water in a small bowl. Set aside for 5 minutes.
In a medium bowl whisk together flour blend, xanthan gum, salt, baking soda, and ground cinnamon. Set aside.
In the bowl of a stand mixer, using the paddle attachment, beat vegan buttery spread on medium until creamy for 20-30 seconds. Add granulated sugar and brown sugar and beat until incorporated, about 30 seconds, scraping down the sides of the bowl as needed. Be sure not to overmix the buttery spread. Overmixing will warm the spread, causing the finished dough to be too soft.
Return to flax egg and whisk vigorously. Gradually add flax egg and vanilla to creamed mixture and mix just until combined.
Add half of the flour mixture and mix on low for 5-10 seconds. Add the remaining flour mixture and mix just until combined and a dough forms, about 30 seconds. Depending on the flour blend you are using, you may need to add a little alternative milk. Not all flours hydrate at the same rate. If your dough is dry and crumbly, add alternative milk a teaspoon at a time, mixing by hand.
Portion the cookie dough with a scoop, also known in the industry as a disher. We use a #40 scoop, which is usually identified by a purple handle or some portion of the handle being purple. The portion is equivalent to a heaping tablespoon.
Roll each scoop into a smooth ball. Roll the balls in cinnamon-sugar. We find the easiest and neatest way is to put the cinnamon-sugar in a ziploc bag and add the dough balls one by one, tossing to coat.
Place the cookie balls on a baking sheet lined with parchment paper or a silpat, spacing them 2-inches apart. Do not flatten.
Use your thumb to form an indentation in the middle of the cookie, gently pressing about 1/2 way in.
Once the tray is filled with cookies, fill each well with 1/2 teaspoon of jam. A small spoon will do the job. However, we find that piping the jam is super quick. If you don't have a decorating or pastry bag, place jam in a ziploc bag. Cut one of the bottom corners to make a small hole and pipe the jam into the wells, securing the open end so the jam does not spill out. Do not use jelly, as jellies tend to melt.
Bake for approximately 14-16 minutes. The bottom of the cookies should be lightly golden.
Notes
There's nothing wrong with a few cracks along the edges of a thumbprint. After all, that's part of the charm. However, the dough cracks less if you make the indentation after rolling the balls in batches of 6, instead of rolling them all first.
Adding too much milk or beating the buttery spread too long will cause the dough to be too soft to handle. If your dough is too soft, chill for an hour in the fridge. The cookies may still spread more than normal. 
The cookies can be kept at room temperature for about 3 days before they start to lose their luster.
Courses Sweets
Recipe by Allergy Chefs at https://www.yourallergychefs.com/raspberry-thumbprints/