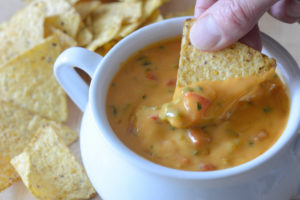 Green Chili Queso
Yield 1 quart
Free of: gluten and top 8 allergens.
This queso goes far beyond chips!
Ingredients
1 tbsp grapeseed or olive oil
1 cup diced onion
1-2 Anaheim chilies, roasted, peeled, seeded and finely chopped (1/2 cup) or 1 (4-ounce) can green chilies (see recipe notes)
1 jalapeno pepper, seeded and finely chopped (2 tbsp)
2 tsp minced garlic
1 1/4 cups rice milk
1 cup cooked mashed sweet potato
1 tbsp nutritional yeast, optional (see recipe notes)
8 ounces cheddar style shreds (2 cups), such as Daiya
1 cup diced roma tomatoes
1/4 cup chopped cilantro
1/4 tsp ground cumin
Tortilla chips, for serving
Instructions
In a small saucepan, heat oil over medium heat. Add the onion and cook, stirring occasionally for 5 minutes. Toss in Anaheim chilies or canned green chilies, jalapeño, and garlic and cook for 30 seconds longer. Set aside while preparing the cheese sauce.
In a medium saucepan, combine rice milk and sweet potato. Puree until smooth using an immersion blender. Add nutritional yeast and the onion/chili mixture. Bring to a simmer over medium heat, whisking occasionally. 
Reduce heat to low. Add cheddar-style shreds and whisk frequently until melted, about 5 minutes.
Stir in tomatoes, cilantro, and cumin. Mix and match your queso by adding a mixin, if desired (see recipe notes).
Transfer the queso to a serving bowl. Serve warm with tortilla chips.
Notes
To roast chili peppers, preheat your oven's broiler. Put chilies on a baking sheet lined with foil and place tray in upper third of your oven. 
Let the chilies broil until most of the skin is black, about 5-10 minutes. Remove pan and flip the chilies over and repeat. You can also blacken the chilies over an open flame on your grill or over the flame of a gas cooktop.
Add the charred chili peppers to a large ziplock bag and seal, or to a bowl covered with plastic wrap. Let sit for 20 minutes. This will allow the chilies to steam, making it easier to peel the charred, black skin.
Peel, then slice chilies open lengthwise and scrape out the seeds with a spoon.
Nutritional yeast is a rich source of vitamins (especially B vitamins) and minerals, protein, fiber, and antioxidants. It is naturally low in sodium and calories, as well as gluten-free and vegan. Studies have shown its wide range of potential health benefits, from lowering cholesterol to protecting the body from free radical damage.
Mixins
1 cup chorizo, cooked and crumbled
1 cup ground beef or turkey, cooked and crumbled
1 cup rotisserie or leftover cooked chicken, skin removed and chopped
1/2 cup bacon bits...or more
1 (15-ounce) can black or pinto beans, drained and rinsed
12 ounces fresh spinach, about 8 cups packed (heat until spinach wilts)
1 (14-ounce) can artichoke hearts, quartered, drained and rinsed
8 ounces sliced button or cremini mushrooms, sautéed
Courses Starters
Recipe by Allergy Chefs at https://www.yourallergychefs.com/queso/