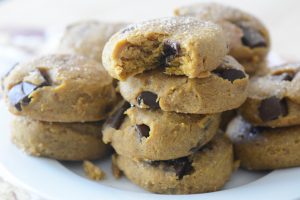 Pumpkin Chocolate Chip Drops
Yield 18 cookies
Free of: gluten and top 8 allergens.
With the perfect amount of pumpkin flavor and loaded with chocolate chunks, these cake-like drop cookies are sure to be a hit!
Ingredients
1 1/2 cups all purpose gluten-free flour blend
1 tsp baking powder
1/4 tsp xanthan gum (omit if using a flour blend with xanthan gum)
1 tbsp flaxseed meal
3 tbsp lukewarm water
1 cup organic cane sugar
1 1/4 tsp ground cinnamon
1/2 tsp sea salt
1/4 tsp ground allspice
1/8 tsp ground cloves
6 tbsp (3 ounces) dairy-free, soy-free margarine or buttery sticks, such as Earth Balance, melted
3/4 cup pumpkin puree
3/4 cup chocolate chips or chocolate chunks, such as Enjoy Life Mega Chunks
Instructions
Preheat oven to 350-degrees F.
In a medium bowl, whisk together flour, baking powder, and xanthan gum. If the baking powder has lumps, sift it into the flour. Set aside.
In a small bowl, whisk together flaxseed meal and water. Set aside for 5 minutes.
Combine sugar, cinnamon, salt, allspice, and cloves in a large bowl and mix well. Whisk in melted margarine.
Return to the flaxseed mixture and vigorously whisk. Pour flax-egg into the sugar mixture. Add pumpkin puree to the sugar mixture. Whisk until well blended and smooth.
Fold the flour mixture into the wet ingredients just until incorporated.
Add chocolate chunks and mix briefly until evenly distributed.
Drop by scoops of 2 tablespoons about 2-inches apart onto a cookie sheet lined with a silpat or parchment paper. We like to use a #30 scoop, also called a disher, to portion the cookies. A 17 x 12-inch cookie sheet will accommodate 12 cookies.
Place in oven and bake for approximately 20-22 minutes, until done. Baking time may vary, depending on oven.
Remove from oven and place on a cooling rack to cool completely before storing. Naturally moist cookies, like these pumpkin drops, tend to get sticky and soggy in lidded containers and zip lock bags that prevent air circulation. When the cookies have completely cooled, put a paper towel on the bottom of a large airtight container. Place the cookies in the container in a single layer. Top cookies with another paper towel before putting lid on.
Courses Sweets
Recipe by Allergy Chefs at https://www.yourallergychefs.com/pumpkin-chocolate-chip-drops/