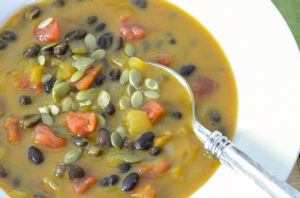 Pumpkin and Black Bean Soup
Yield 6 Servings
Free of: gluten and top 8 allergens.
A hearty, comforting soup that's so quick and easy to make, loaded with flavor and packed full of goodness.
Ingredients
2 tbsp grapeseed oil
2 cups chopped yellow onions
pinch salt
1/8 tsp ground cinnamon
1-1/2 tsp ground cumin
1 tbsp curry powder
1/2 cup dry sherry, not "cooking sherry" (see recipe notes)
3 cups vegetable broth, low sodium
2 (15-ounce) cans black beans, drained and rinsed
1 (15-ounce) can pure pumpkin puree (see recipe notes)
1 (14.5-ounce) can diced tomatoes, undrained
3 tbsp fresh orange juice
1/2 tsp sea salt, fine crystals
1/2 pound cooked diced ham - optional
1/3 cup toasted pumpkin seeds
Instructions
Heat oil in a large saucepan over medium-low heat. Add onions and pinch of salt. Cook for 5 minutes.
Add cinnamon, cumin and curry powder. Stir for 1 minute.
Add sherry, vegetable broth, black beans, pumpkin puree and tomatoes. Stir to combine. Increase heat to medium-high. When soup comes to a boil, reduce heat to a simmer. Cook for 10 minutes, stirring often.
Add orange juice and salt.
If you're making your's "meaty", add ham.
Stir to combine and cook an additional 5 minutes.
Divide soup into bowls and top with toasted pumpkin seeds.
Notes
Fino sherry is a good choice and can be found in the wine section. Dry sherry can be inexpensive and is also good for drinking. Just make sure you don't accidentally buy "cooking sherry" which may have salt added to it.
You can substitute canned pumpkin for 1-3/4 cups fresh sugar pumpkin puree. Visit our pumpkin pie post for instructions on baking sugar pumpkins.
Nutrition Facts do not include ham.
Courses Soups & Salads
Amount Per Serving

Calories 153

% Daily Value

Total Fat 5 g

8%

Saturated Fat 0.5 g

3%

Cholesterol 3 mg

1%

Sodium 287.3 mg

12%

Total Carbohydrates 24 g

8%

Dietary Fiber 6.3 g

25%

Sugars 10.5 g

Protein 3 g

6%
Recipe by Allergy Chefs at https://www.yourallergychefs.com/pumpkin-and-black-bean-soup/