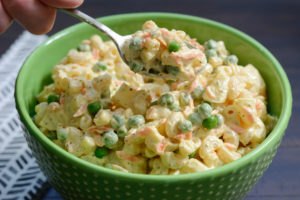 Potato-Mac Salad
Yield 2 quarts
free of: gluten and top 8 allergens.
Hawaiian style potato-mac salad is the perfect side dish that adds aloha to any plate.
Ingredients
Dressing
1 1/2 cups vegan mayonnaise, such as Follow Your Heart Soy-Free Vegenaise
2 tbsp yellow mustard
2 tbsp pickle relish
1 tsp celery seed
1 tsp salt
1/4 tsp black pepper
Salad
20 ounces peeled red skin potatoes (or Yukon golds), quartered
8 ounces dry gluten-free macaroni, such as Andean Dream Quinoa organic macaroni (about 2 cups)
1 cup shredded carrots
1 cup frozen peas, thawed
Instructions
For the dressing, in a medium bowl, mix together mayonnaise, mustard, pickle relish, celery seed, salt, and pepper. Set aside in refrigerator.
For the salad, cook pasta according to package directions. To prevent overcooking, start checking pasta for doneness several minutes before package directions specify. You may need to test the pasta 2 or 3 times before it's just right. Stoves and temperatures may vary, causing differences in cooking times. Drain in a colander and rinse under cold water, draining again well. Set aside.
Place potatoes in a large saucepan. Fill with cold water until it comes 2-inches above the potatoes. Bring to a boil over high heat. Lower heat to a simmer, and cook until potatoes are fork tender, about 13-15 minutes. The cooking time will vary depending on the size of the potato cubes. Drain, but don't rinse. Spread on a baking sheet to cool. Chop into 1/2-inch cubes. You should have about 4 cups cubed potatoes.
Place potatoes in a large bowl. Add cooked macaroni, shredded carrots, and peas.
Add dressing to mixture and stir gently to combine. Cover and refrigerate until ready to serve.
Notes
We developed this recipe for the 2017 Spring issue of Allergic Living.
Potato-mac salad is best served the same day, as some gluten-free pastas firm up when chilled overnight. However, Andean Dream allergy-friendly pasta is a great choice for cold salads.
Courses Veggies & Sides
Recipe by Allergy Chefs at https://www.yourallergychefs.com/potato-mac-salad/