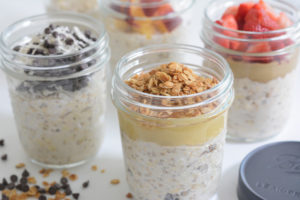 Overnight Oats
Yield 5 Servings
Free of: gluten and top 8 allergens.
The best grab-and-go breakfast!
Ingredients
2-1/2 cups gluten-free rolled oats
2-1/2 cups alternative milk
3 tbsp pure maple syrup or honey
5 tsp chia seeds, optional but recommended
1/2 tsp sea salt
Instructions
In a medium bowl, combine rolled oats, milk, maple syrup, chia seeds, and sea salt. Cover and place in the fridge for at least 2 hours or overnight.
The next morning, stir the oats and portion into 5 bowls or 5 (12-ounce) mason jars.
Enjoy plain or add a topping (see recipe notes).
Shelf life for overnight oats is 5 days.
Notes
The following topping amounts are for 1 serving:
Sunbutter & Jam:  
Top soaked oats with:
1 tbsp strawberry jam or preserves
1 tbsp sunbutter
1/4 cup diced fresh strawberries
Apple Pie:
3 tbsp raisins, stir into soaked oats and top with:
1/4 cup unsweetened applesauce
1/4 cup granola
Carrot Cake:
Stir into soaked oaks:
1/4 cup grated carrots
3 tbsp raisins
1/4 tsp ground cinnamon
Coconut Chocolate Chip
1/4 cup shredded coconut
2 tbsp allergy-friendly chocolate chips
Peaches-and-Cream
1/4 cup diced peaches
2 tbsp allergy-friendly vanilla yogurt, optional
Bananas-and-Cream
1/4 cup sliced bananas
2 tbsp allergy-friendly vanilla yogurt, optional
Courses Breakfast & Brunch
Recipe by Allergy Chefs at https://www.yourallergychefs.com/overnight-oats/