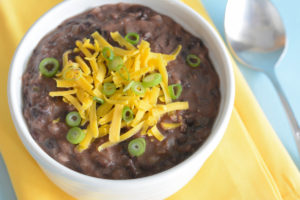 Lime Infused Refried Black Beans
Yield 4 Servings
Free of: gluten and top 8 allergens.
A nutritious side dish to serve with any Mexican meal.
Ingredients
2 tbsp olive oil (see recipe notes for no-oil substitute)
1/2 cup diced yellow or white onions
1/8 tsp + 1/2 tsp salt, divided
1 tbsp minced jalapeno
1 tsp minced garlic
1 tsp ground cumin
1/2 tsp chili powder
1 (15-ounce) can black beans, rinsed and drained (1 1/2 cups cooked beans)
1 cup vegetable broth
2 tbsp lime juice
1/2 tsp agave nectar
Instructions
Heat oil in a small saucepan over medium heat.
Add onions and 1/8 tsp salt. Cook for 5 minutes, stirring occasionally.
Stir in jalapeño, garlic, cumin, and chili powder; cook for 1 minute, stirring occasionally.
Add black beans and vegetable broth and increase heat to medium-high. When the beans come to a boil, reduce heat to medium and gently simmer for 10 minutes, uncovered.
Remove from heat and mash with a potato masher until the beans are about three-quarters mashed. Black beans are not as creamy as pinto beans and will be a little more chunky.
Return to medium heat. Add lime juice, agave nectar, and 1/2 tsp salt. Cook for another 2 minutes. As the beans cool, they will thicken.
Enjoy with your favorite Mexican meal or as a dip.
Notes
For no-oil substitute, replace the oil with vegetable broth or water. When the broth is added to the hot pan, it will start to sputter. Add the onions with a dash of salt and cook for 5 minutes over medium heat. Continue with remaining instructions.
Courses Veggies & Sides
Recipe by Allergy Chefs at https://www.yourallergychefs.com/lime-infused-refried-black-beans/