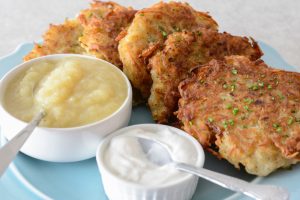 Latkes
Yield 6 Latkes
Free of: gluten and top 8 allergens.
Potato pancakes are great any time of year, but around Hanukkah there's a whole latke love!
Ingredients
1 tbsp flaxseed meal
3 tbsp lukewarm water
1 cup grated yellow onion, drained
2-3 large russet potatoes, about 1 pound after peeling
1 tsp salt
1/4 tsp black pepper
1/4-1/2 cup vegetable oil (See Recipe Notes)
chives or green onions, optional
applesauce, optional
allergy-friendly sour cream, optional
Instructions
In a small bowl, whisk together flaxseed meal and water. Set aside.
Trim, peel and shred onions using large holes on a box grater or food processor with grating blade. Measure out 1 cup and set aside.
Wash, peel and grate potatoes, placing in a bowl of cold water as they are grated. When finished grating potatoes, drain in a colander that is set in a large bowl, reserving liquid. Place drained potato shreds in a colander lined with 3 layers of cheesecloth. Twist cheesecloth into a pouch, squeezing out moisture. Get as much liquid out of your potato shreds as possible before mixing. Slowly pour out the reserved liquid, leaving the white potato starch that settled in the bottom of the bowl.
Return to the flaxseed meal and water and vigorously whisk; it will be gelatinous.
To the bowl with the starch add onion, flax egg, salt and pepper. Measure out 3 cups of drained grated potatoes and add to mixture. Toss to combine.
Cover batter with plastic wrap so it's directly touching surface so no air comes in contact with the batter while you are waiting to cook the pancakes. This prevents potatoes from oxidizing and turning brown.
Heat heavy-duty skillet with oil to a depth of 1/4 to 1/2-inch over medium heat. When the oil is hot, portion 1/4 cup batter for each pancake into the pan, being careful not to crowd the pan. Spread each pancake into rounds with a fork. Flip when they are golden brown, about 3-4 minutes. Cook the other side until browned, about 3-4 minutes more.
Drain pancakes on paper towels and serve immediately with applesauce and allergy-friendly sour cream or keep latkes warm on a wire rack set in a shallow baking pan in oven at 200 degrees F.
Notes
Fry with an oil that has a high smoke point, like grapeseed oil, canola oil or safflower oil. This will help ensure the latkes are crispy on the outside and perfectly fluffy on the inside.
Courses Veggies & Sides, Breakfast & Brunch
Recipe by Allergy Chefs at https://www.yourallergychefs.com/latkes/