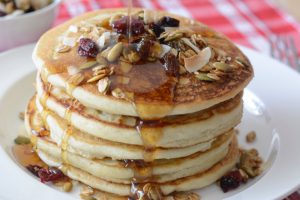 Granola Pancakes
Yield 12 Pancakes
Free of: gluten and top 8 allergens.
Weekends and camping trips will never be the same again! We think you'll agree once you taste these light and fluffy Granola Pancakes.
Ingredients
2 cups gluten-free all purpose flour blend
2 tbsp baking powder, sifted
2 tbsp granulated sugar
1/2 tsp xanthan gum (omit if using a flour blend with xanthan)
1/4 tsp salt
1-3/4 cups alternative milk, such as unsweetened hemp milk
2 tsp fresh lemon juice
1/2 cup unsweetened applesauce, room temperature
2 tbsp coconut oil or allergy-friendly margarine, melted and cooled to room temperature
3/4 cup granola
Maple syrup and additional granola for garnish
Instructions
In a large bowl, whisk together flour, baking powder, sugar, xanthan gum and salt. Set aside.
In a medium bowl, whisk together milk and lemon juice. Let sit for 10 minutes.
Preheat electric griddle or skillet to medium to medium-high.
Add applesauce and oil to milk, followed by dry ingredients. Whisk until just moistened. Don't worry about a few small lumps. Fold in granola. Let batter rest for 5 minutes.
Once griddle or skillet is hot, lightly grease and ladle 1/3 cup batter onto the griddle. Use the back of a spoon to spread batter into a round. Cook for approximately 2-3 minutes, until golden brown. You will see bubbles break the surface. Flip the pancake and cook until golden brown, another 2-3 minutes, depending on heat source.
You can keep pancakes warm in an oven preheated to 200-degrees F.
Garnish with granola and serve with maple syrup.
Courses Breakfast & Brunch
Recipe by Allergy Chefs at https://www.yourallergychefs.com/granola-pancakes/