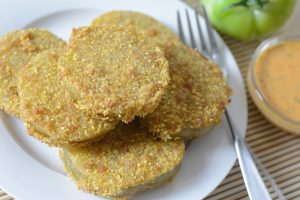 Fried Green Tomatoes
Yield 6 Servings
Free of: gluten and top 8 allergens.
Crispy on the outside and juicy in the middle, these fried green tomatoes are addictive!
Ingredients
Remoulade Sauce
1/2 cup allergy-friendly mayonnaise, such as Follow Your Heart Soy-Free Vegenaise
1-1/2 tbsp ketchup
1 tbsp dill relish
2 tsp finely chopped flat leaf (Italian) parsley
3/4 tsp dry mustard powder
1/8 tsp sriracha or other hot sauce
Tomatoes
4 medium green tomatoes
2 tbsp ground flaxseed meal
6 tbsp lukewarm water
1/2 cup allergy-friendly gluten-free flour blend
1 tsp garlic powder
1 tsp salt
1/4 tsp black pepper
1/2 cup cornmeal
1/2 cup allergy-friendly panko or breadcrumbs
1/2 cup unsweetened hemp milk
Instructions
For the remoulade, in a small bowl, whisk together the mayonnaise, ketchup, dill relish, parsley, dry mustard, and sriracha. Cover and let sit in refrigerator for several hours to let the flavors combine.
For the tomatoes, cut crosswise into 1/3 to 1/2-inch thick slices, discarding the ends. Set aside.
In a small bowl, whisk together flaxseed meal and water. Set aside for 5 minutes. 
In a second bowl, mix together flour, garlic powder, salt, and pepper. Set aside.
In a third bowl, mix together cornmeal and panko.
Return to the flaxseed mixture and vigorously whisk; it will be gelatinous. Whisk in milk.
To set up your breading station, if you are right-handed, line up your ingredients from left to right in the following order: green tomatoes, seasoned flour, liquid, cornmeal/panko. Reversing the bowls, left-handed cooks will work from right to left.
Dredge tomatoes in seasoned flour to coat. Dip in flaxseed and milk mixture. Dredge in cornmeal/panko mixture to completely coat.
Pour oil to a depth of 1/2-inch in a large cast iron skillet or other skillet and heat over medium heat. Place tomatoes into hot oil in batches of 4 or 5, depending on the size of your skillet. The tomatoes should not touch each other. Cook 2 minutes on each side or until golden. Transfer to a paper towel-lined platter. Repeat with remaining tomatoes.
Serve fried green tomatoes with remoulade and let the dipping begin!
Notes
For a healthier baked option, omit step 9. Place tomatoes on a parchment-lined baking pan. Spray lightly with cooking spray, preferably extra virgin olive oil. Bake at 325-degrees F for about 40 minutes, flipping halfway through, until crisp and golden brown.
Courses Starters
Recipe by Allergy Chefs at https://www.yourallergychefs.com/fried-green-tomatoes/