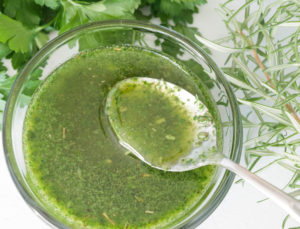 Emerald Herb Oil
Yield 1-1/8 Cups
Free of: gluten and top 8 allergens.
This flavored oil can season anything from veggies to meats.
Ingredients
1/2 cup olive oil
1/2 cup grapeseed or canola oil
1/2 cup roughly chopped Italian parsley, loosely packed
1 tbsp fresh rosemary, stems removed and chopped
1 tsp dried thyme
1/4 tsp salt
Instructions
Pour the olive and grapeseed oils into a blender or food processor. Add the parsley and rosemary which have been rinsed before chopping, followed by the thyme and salt. Blend or pulse for approximately 20 seconds until combined. You will still have bits and pieces of the chopped herbs.
Place mixture into a covered jar. Store in the refrigerator for up to a week.
Courses Sauces & Condiments
Recipe by Allergy Chefs at https://www.yourallergychefs.com/emerald-herb-oil/