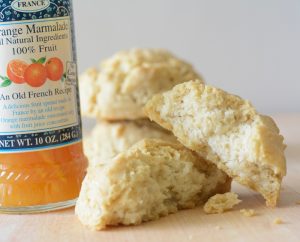 Drop Biscuits
Yield 8 biscuits
Free of: gluten and top 8 allergens.
Whether it's breakfast, brunch or dinner time, the exclamations of delight as your friends and family gather round the table with sighs of satisfaction, make the extra effort of home-made biscuits completely worthwhile.
Ingredients
2 cups all-purpose gluten-free flour blend
1/2 tsp xanthan gum (omit if using a flour blend with xanthan)
2 tsp baking powder
1/2 tsp baking soda
1 tbsp granulated sugar
1 tsp fine sea salt
8 tbsp allergy-friendly margarine, such as Earth Balance
1 cup hemp milk, chilled
Instructions
Preheat the oven to 425-degrees F.
In a large bowl, sift together the flour, xanthan gum, baking powder and baking soda. Add the sugar and salt and whisk to combine.
Grate half of the margarine into the flour. Toss together. Grate remaining margarine into the flour and toss well, breaking up any large clumps.
You can also cut in the margarine with your fingers or a pastry cutter, until they are the size of peas.
Working fast, so the margarine doesn't warm up, stir in the milk until incorporated. Drop by spoonfuls into 8 portions on a baking sheet lined with parchment paper or a silpat. If desired, lightly brush each biscuit with melted margarine.
Bake about 18-20 minutes or until done. Cooking time will depend on thickness of the biscuit.
Serve and enjoy!
Courses Breakfast & Brunch
Recipe by Allergy Chefs at https://www.yourallergychefs.com/drop-biscuits/