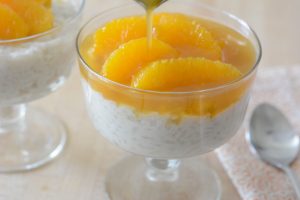 Creamy Rice Pudding with Brandied Oranges
Yield 4 Servings
Free of: gluten and top 8 allergens.
If you're in the mood for an old-fashioned comforting treat, look no further than this recipe for creamy rice pudding with brandied oranges.
Ingredients
Rice Pudding
2-1/4 cups rice milk
2-1/4 cups coconut milk, unsweetened
1 (2-inch) cinnamon stick
3/4 cup Arborio rice
3 tbsp honey or agave nectar (see recipe notes)
1/4 tsp sea salt
Brandied Oranges
2 medium oranges
1/4 cup Brandy
1/4 cup honey or agave nectar
1 tsp grated orange zest
Instructions
For the rice pudding, In a medium heavy bottomed saucepan, bring rice milk and coconut milk to a boil. Add cinnamon stick and Arborio. Reduce heat to medium-low and gently simmer for 25-30 minutes, until rice is al dente, stirring frequently to prevent burning.
After 20 minutes, remove cinnamon stick and add honey or agave nectar and salt; cook another 5 minutes, or until done. Be sure to start testing and tasting for doneness at about 20 minutes. Cooking times can vary based on stove tops, saucepans, and how high or low the simmering action is.
Allow to cool slightly before portioning into serving bowl or individual containers.
Chill for several hours or overnight. When ready to serve, garnish with brandied oranges.
For the brandied oranges, segment the oranges into a small bowl. Set aside.
In a small saucepan, add brandy, honey or agave nectar, and orange zest. Stir over medium-low heat for about 5 minutes.
Pour mixture over orange segments. Refrigerate for several hours or overnight to allow flavors to meld.
Notes
You can substitute 1/3 cup of organic cane sugar or coconut sugar for the honey or agave nectar.
Courses Sweets
Recipe by Allergy Chefs at https://www.yourallergychefs.com/creamy-rice-pudding-with-brandied-oranges/