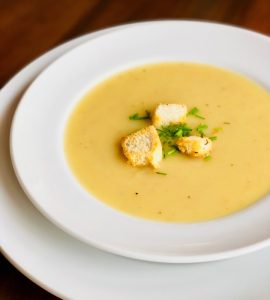 Creamy Potato Fennel Soup
Yield 4 (1 1/2 cup) Servings
Free of: gluten and top 8 allergens.
Light, delicious and naturally creamy from potatoes, this soup is a winner! 
Ingredients
1 pound of Yukon gold potatoes, quartered
1/2 fennel bulb roughly chopped
2 yellow onions roughly chopped
4 cups of chicken stock
Olive oil (as needed)
Salt and pepper
1 garlic clove roughly chopped OR 1/2 teaspoon garlic powder
2 tbsp chopped chives (for garnish)
Croutons (for garnish)
Bacon crumbles (for garnish)
Instructions
Saute the onions and fennel in olive oil until soft.
Meanwhile chop the potatoes (skins on) and boil them separately in a large pot until cooked through and skins fall off. Remove from heat and drain. Remove skins. Put onion mixture into the pot with the potatoes.
Add chicken stock and bring to a boil. Depending on the size of the vegetable cuts, it may be necessary to simmer until vegetables are tender. Turn off heat and blend soup with a hand held blender until smooth. Add salt and pepper to taste. Portion into individual soup bowls.
Drizzle with a little olive oil and garnish with chives, bacon, and croutons.
Notes
To make the soup vegan, replace the chicken stock with vegetable stock or broth.
Courses Soups & Salads
Recipe by Allergy Chefs at https://www.yourallergychefs.com/creamy-potato-fennel-soup/