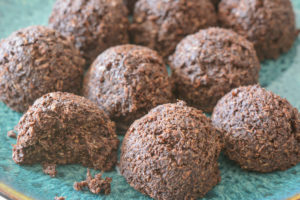 Coconut Cacao Bites
Yield 18 bites
Free of: gluten and top 8 allergens.
Delicious and healthy, these subtly sweet coconut cacao bites are made with six simple ingredients.
Ingredients
2 1/2 cups unsweetened, fine shredded coconut (see recipe notes)
1 1/2 cups cacao powder
2/3 cup pure maple syrup
6 tbsp coconut oil, melted and slightly cooled
1 tsp pure vanilla extract
1/4 tsp Himalayan sea salt
Instructions
In a large bowl, mix coconut with cacao powder. Add maple syrup, coconut oil, vanilla, and salt. Mix well until thoroughly combined. If mixture is too dry, it may be necessary to add an additional tablespoon or two of maple syrup.
Scoop and portion into balls, placing on a baking sheet lined with a silpat or parchment paper (see recipe notes).
Refrigerate for at least one hour or until firm. Store in a sealed container in the refrigerator.
Notes
Be sure to use unsweetened coconut shreds, not the sweet coconut flakes, such as Baker's Angel Flake. Unsweetened coconut shreds are available at markets such as Whole Foods and Sprouts.
For this recipe, we used a number 40 portion scoop, also called a disher. The number 40 on the scoop means that you will get 40 level scoops out of one quart of product.
Courses Sweets
Recipe by Allergy Chefs at https://www.yourallergychefs.com/coconut-cacao-bites/