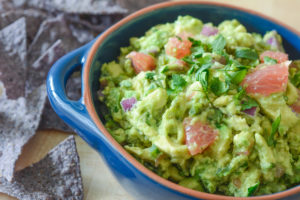 Citrus Guacamole
Yield 4-6 Servings
Free of: gluten and top 8 allergens.
This citrus guacamole is creamy, satisfying, and packed with oh-so-good-for-you fat!
Ingredients
1 cup firmly packed kale, stems removed, about 1 ounce
3 large ripe avocados, or 4 medium
1 tbsp fresh lime juice
1 pink grapefruit, segmented and chopped (1/3 - 1/2 cup)
1 orange, segmented and chopped (1/3 - 1/2 cup)
1 poblano pepper, roasted and chopped (about 1/3 cup)
1/4 cup diced red onion, soaked in ice water for 15 minutes, and drained
2 tbsp chopped cilantro
1/2 tsp ground cumin
Instructions
Wash and clean the kale to remove any grit. Remove the stems by grabbing the leaves with your hand and pulling the stem away in the opposite direction.
Place kale in a steaming basket and set in a large saucepan with about 2-inches of boiling water. Cover and steam kale until wilted, about 2 minutes. Remove from heat and when cool, squeeze dry, chop and set aside.
Slice the avocados in half, around the pit. Remove the pit. Slice the avocados while still in the shell. Scoop the avocado with a spoon into a medium bowl. 
Lightly smash avocados and lime juice with a potato masher, fork, or molcajete until coarsely mashed.
Add kale, chopped grapefruit and oranges, chile, onion, cilantro, and cumin. Mix until incorporated and enjoy.
Courses Starters
Recipe by Allergy Chefs at https://www.yourallergychefs.com/citrus-guacamole/