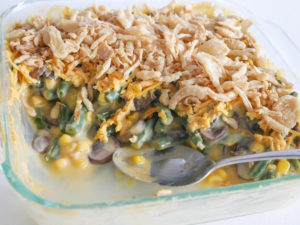 Cheesy Green Bean Casserole
Yield 8 Servings
Free of: gluten and top 8 allergens.
Green Bean Casserole upgraded!
Ingredients
16 ounces white or cremini mushrooms, sliced, or a combination
3 tbsp dairy-free, soy-free margarine, such as Earth Balance sticks
3 tbsp sweet white rice flour (see recipe notes)
1/2 tsp sea salt
1/2 cup vegetable broth
1/4 cup dry sherry (not sherry vinegar or cooking sherry)
2 cups cheddar-style cheese shreds, such as Daiya, divided (1-1/2 cups + 1/2 cup)
24 ounces fresh green beans, trimmed, cooked and shocked in ice water (see recipe notes)
1 cup frozen sweet corn kernels, thawed (optional)
1-1/2 cups allergy-friendly fried onions
Instructions
Preheat oven to 350 degrees F.
Heat 10-inch skillet or saucepan. Add mushrooms. To prevent sticking, it may be necessary to add a tablespoon of water until the mushrooms release their juices. Cook for 8 minutes. Remove from heat and set aside.
Melt margarine in a medium saucepan over low heat. Add flour and salt. Cook for 1 minute, stirring constantly.
Gradually add broth and sherry, whisking until smooth. Whisk in milk and increase heat to high. Bring the sauce to a boil, stirring constantly. Reduce heat and simmer 10 minutes, stirring frequently.
Add 1-1/2 cups of cheddar shreds. Cook an additional 5 minutes until cheddar shreds are melted, whisking frequently. Remove from heat. 
In a large bowl, place green beans, mushrooms, and corn. Pour the sauce over the vegetables and gently combine with a rubber spatula.
Transfer green bean mixture to baking dish. Gently press mixture evenly in pan.
Place in oven. After 15 minutes of baking, sprinkle remaining 1/2 cup cheddar shreds over casserole and continue baking for 10-15 minutes or until casserole starts to bubble around the edges. 
Keep in mind if your green bean casserole was assembled ahead of time and has been in the fridge, you will need to add some additional cooking time.
Remove from oven. Let rest for 10 minutes and enjoy garnished with fried onions.
Notes
Sweet white rice flour is ground from short-grain glutinous rice and is different from white rice flour, which is made from ground white rice. Neither white nor brown rice flours are a substitute for sweet white rice flour, and will not yield the same results.
You can replace the sweet white rice flour with equal amount of garbanzo bean flour (also known as chickpea flour). If using garbanzo bean flour, the cooking time after adding the sherry, broth and milk will be reduced from 10 to 5 minutes.

To cook the beans, bring a large pot of water to a boil. When the water is boiling, drop in the beans. When water returns to a boil, lower heat to medium and simmer for 4 minutes or until crisp tender. Drain beans and transfer beans into a large bowl of ice water for 5 minutes to shock the beans and stop the cooking process. The result will be crisp, tender, gorgeous green beans.

We came across several brands of gluten-free French fried onions. 365 brand from Whole Foods Market carries Crispy Onions, which contain onions, buckwheat flour, canola oil, palm oil and salt. Sprouts also carries Gluten-Free French Fried Onions.
Courses Veggies & Sides
Recipe by Allergy Chefs at https://www.yourallergychefs.com/cheesy-green-bean-casserole/