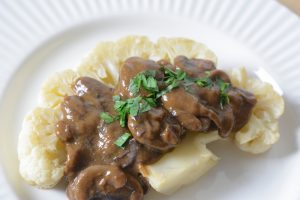 Braised Cauliflower Steaks with Red Wine Mushroom Gravy
Yield 4 Servings
Free of: gluten and top 8 allergens.
Here the humble cauliflower is transformed into elegant Braised Cauliflower Steaks with Red Wine Mushroom Gravy.
Ingredients
Cauliflower Steaks
2 heads cauliflower
1 quart vegetable broth
1 cup dry white wine
4 bay leaves
8 cloves garlic, peeled and smashed
Espagnole
4 ounces allergen-free margarine, such as Earth Balance Soy Free Buttery Sticks (8 tbsp)
2 cups diced yellow onions
1 cup diced carrots
1 cup diced celery
1 cup garbanzo bean flour (see recipe notes)
1/2 cup tomato paste
2-1/2 quarts vegetable broth
2 bay leaves
2 tsp dried thyme
10 black peppercorns
Red Wine Mushroom Gravy
1 tbsp EVOO (extra virgin olive oil)
1 cup sliced shallots
1 pound sliced mushrooms
2 cups red wine
1 quart espagnole (above)
Salt and pepper to taste
Chopped Italian parsley, garnish
Instructions
For the cauliflower steaks, preheat oven to 350-degrees F. With a paring knife, remove outer leaves and trim stem ends of cauliflower heads, without coring. One at a time, hold each cauliflower with its base on the cutting board. With a sharp chef's knife, make one cut lengthwise through the center of the cauliflower to divide it in half. Now cut a 1 to 1-1/2 inch-thick steak from the interior of each half. Be sure to save the ends for other uses.
Depending on the size of the cauliflower steaks, you'll need a 13 x 9-inch or a 15 x 10-inch baking dish. Place the cauliflower steaks in the baking dish. Add the broth, wine, bay leaves and garlic. Cover with foil and set aside.
For the espagnole, in a medium saucepan, melt the margarine over medium heat. Add the onions, carrots and celery and cook for 20-25 minutes, stirring often.
While the vegetables are cooking, place the cauliflower steaks in the oven. Bake about 35 - 45 minutes until tender, flipping each steak halfway through. Test the steaks periodically for doneness as not to overcook, or the steaks will fall apart.
When the vegetables for the espagnole begin to brown, add flour and tomato paste. Stir and cook for 1 minute.
Gradually add 2 cups of stock and whisk to make a smooth paste. Add the remaining stock, whisking until incorporated. Bring to a boil. Reduce heat to a simmer and add bay leaves, thyme and peppercorns. Simmer for approximately 40 minutes, or until reduced by half, stirring occasionally. Skim as needed.
Strain the espagnole through a fine mesh sieve into another saucepan, pressing the vegetables gently to extract their juices. Discard the vegetables and herbs. Set espagnole aside.
To turn the espagnole into a red wine mushroom gravy, or champignon, heat oil over medium heat in a large saucepan. Add shallots and cook for 1 minute. Add mushrooms and cook for 3-5 minutes, until water evaporates from mushrooms.
Add red wine and reduce until liquid is reduced down to about 1/4 cup, or is almost evaporated.
Stir in 1 quart of espagnole. When gravy comes to a simmer, remove from heat. Season with salt and pepper.
Place a steak onto a plate and serve with red wine mushroom gravy, and garnish with chopped Italian parsley.
Notes
Garbanzo bean flour is also known as chickpea flour, besan, or gram flour.
Courses Mains
Recipe by Allergy Chefs at https://www.yourallergychefs.com/braised-cauliflower-steaks-with-a-red-wine-mushroom-gravy/