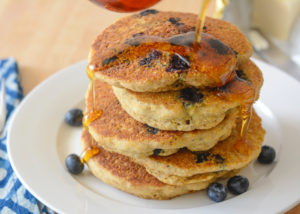 Blueberry Corn Cakes
Yield 6 pancakes
Free of: gluten and top 8 allergens.
Nothing says "breakfast" like these homemade blueberry corn cakes!
Ingredients
1 tbsp flaxseed meal
3 tbsp lukewarm water
3/4 cup gluten-free all-purpose flour blend
3/4 cup cornmeal
2 tsp baking powder
1/2 tsp baking soda
1/2 tsp salt
3/4 cup unsweetened hemp milk
1/4 cup unsweetened applesauce
2 tbsp dairy-free, soy-free margarine sticks (such as Earth Balance), melted and cooled
1 tsp apple cider vinegar
1 cup fresh blueberries
Instructions
Preheat a large lightly oiled skillet over medium heat.
In a small bowl, whisk together flaxseed meal and water. Set aside.
Place the flour and cornmeal in a large bowl. Sift the baking powder and baking soda into the flour. Add the salt and whisk to combine.
Return to the flaxseed mixture and vigorously whisk. It will be gelatinous. Whisk in the milk, applesauce, margarine, and vinegar.
Pour the wet ingredients into the dry, mixing to combine. Fold in the blueberries.
Portion 1/3 cup of batter for each cake into the heated skillet. Cook until golden brown, about 2 minutes. Gently flip over and cook another 2 minutes, until golden brown.
Serve with maple syrup.
Notes
Many batters can be made ahead of time and stored in the fridge. However, this batter must be used right away. The baking soda reacts with the vinegar to create carbon dioxide bubbles. This bubbling reaction causes the batter to expand, producing fluffy pancakes.
For this reason, the batter should not be made in advance or the magical bubbles will dissipate resulting in flat pancakes.
Courses Breakfast & Brunch
Recipe by Allergy Chefs at https://www.yourallergychefs.com/blueberry-corn-cakes/