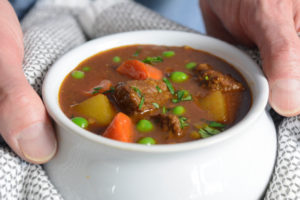 Beef Stew
Yield 6-8 Servings
Free of: gluten and top 8 allergens.
Beef, onions, carrots, potatoes and red wine come together in cozy harmony.
Ingredients
1 pound beef chuck, boneless and trimmed of fat
2 tbsp vegetable oil
2 medium white or yellow onions, chopped into 3/4-inch pieces (about 3 cups)
2 tbsp garbanzo bean flour
1 tbsp minced garlic
1 tbsp dried Italian herb seasoning
1 tbsp smoked paprika
1 tsp finely chopped fresh rosemary
1/2 cup red wine
1/3 cup tomato paste
5 cups low sodium vegetable broth
2 large ribs celery, sliced into 3/4-inch pieces (about 1 cup)
1 pound red potatoes, peeled and cut into 1-inch cubes (about 4 cups)
3 medium carrots, sliced lengthwise and cut into 3/4-inch pieces (2 cups)
2 tbsp cornstarch
2 tbsp cold water
1 1/2 cups frozen peas, thawed and drained
1/4 cup Italian parsley, chopped
Instructions
Cut meat into 1-inch cubes.
Heat a large heavy pot over medium-high heat. When hot add the oil. Add the meat and brown well, stirring occasionally to brown on all sides. If necessary, brown the meat in two batches to avoid overcrowding the pan.
To all the meat in the pan, add onions and continue to cook until lightly browned, about 5 minutes.
Add the flour and stir to make a roux. Brown the roux lightly for several minutes.
Add garlic, Italian herb seasoning, smoked paprika, and rosemary. Stir and cook for 1 minute. Add wine and deglaze, reducing wine by about half.
Add tomato paste, broth and celery. Bring to a boil. Reduce heat to medium-low and cover. Gently simmer for 1 1/2 hours, stirring occasionally. Degrease by skimming off the fat.
Add potatoes and carrots. Increase heat to medium-high and bring to a boil. Reduce heat to medium-low. Cover and cook for 25-30 minutes, or until the potatoes and carrots are tender, stirring occasionally.
In a small bowl combine the cornstarch and water. Add cornstarch slurry to stew. Stir and cook for 2 minutes. Stir in peas and parsley and heat for 2 minutes. Remove from heat. 
Courses Mains
Recipe by Allergy Chefs at https://www.yourallergychefs.com/beef-stew/